Many of us were glued to our TV's and mobiles this weekend to see three great days of crazy and spectacular golf at LIV Adelaide.
The 12th hole known now as the watering hole erupted when Chase Koepka holed in one and for 5 minutes the place was covered in beer!!!
Check out this link https://twitter.com/i/status/1649981131469488128
Over on the Golf Channel if you still managed to stay awake they were awarding the winners of the Zurich Classic of New Orleans, namely Nick Hardy and Davis Riley two American journeymen…..wow!!!
Even the LPGA'S Chevron Championship was noticeably quieter around the course with a lack of spectators.
With 75,000 enjoying some fantastic golf from some of the World's top characters in golf it is no wonder the watching public are getting hooked on this format.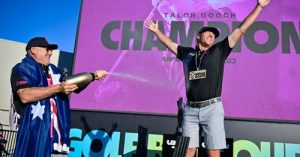 Apart from the individual placings going down to the wire the team events were equally exciting.
It is not only the professionals who are enjoying all the craziness, amateurs are also experiencing the fun too.
Over 1,000 players a year are enjoying Golfasian's amateur golf tournaments in Thailand and Vietnam, where they play as individuals and for team prizes.
Over 500 competitors are already booked for their Centara World Masters 2023 in Hua Hin in June and more events are planned. Check them out at https://www.golfasian.com/events/
By the way they also know how to party every night there too, and the Thai and Vietnamese caddies are a lot prettier as well.
This post has already been read 17 times!