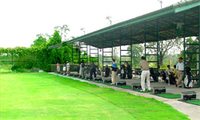 Here is a topic you hardly hear anything about because most people are so busy playing golf they do not think they can also get in some practice when on holiday. Well there really are some great choices and here are a few ideas.
For anyone looking to spend a bit of time working on their golf game in Thailand then you will certainly not be spoiled for choice of driving ranges to visit.
In Bangkok alone, there are over 80 within a 20 km radius of the city centre, but I would warn that with the infamous Bangkok traffic they are not all easy to access.
In the other popular tourist areas such as Pattaya, Phuket and Hua Hin, there are only a few ranges available, but the courses in these locations all have their own facilities for you to practice.
The ranges vary from modern, clean and very spacious, to small, not so clean and fairly basic. All will have individual bays and mats with most providing an electronic dispenser that will automatically put your ball on a tee after each shot.
Most of the ranges are around 250 yards in length, bordered by high fencing allowing you to hit everything from pitching clubs to drivers. They will have yardage markers and targets , allowing you to analyze how you are hitting the ball, and some have actual greens, water hazards, and bunkers, providing much more variation for the customer. A few have chipping and practice putting areas, but the majority do not.
Costs vary but generally you will pay 100 – 200 baht for 3 or 4 trays of balls. There are normally 40 – 50 balls in a tray so this is very cheap compared to ranges in the United States or Europe..
A ball boy/caddie will be available to assist you with the purchase of your balls and will show you to your bay. They will assist with any problems you may have and give your clubs a clean at the end of your session so small tips are always recommended.
Most of the ranges will have facilities where can you order food and drinks, although some will have full restaurant facilities, and others will be a bit more basic.
Some of the more popular and newer ranges will also have a pro shop with equipment and accessories for sale. At some of the ranges the actual manufacturers have there own shops selling their equipment at the range. One very good example of this is All Stars driving range in Bangkok. You can try out all the latest new drivers and irons from Nike, Taylor Made, Callaway, and many more. This is a great range and well worth the visit if you are in the vicinity.
In central Bangkok, the most popular ranges for expats and tourists are located on Soi 26, or Soi 42 in Sukhumvit, both fairly close to the sky train route. However, depending on the location of your hotel there my be others more convenient and please feel free to ask for details.
The best time to visit the ranges is during the day on weekdays. In the evening and at weekends they can become particularly busy with the locals and expats trying to fine tune their skills.
For more information feel free to drop me a line at mark@golfasian.com.
This post has already been read 17 times!