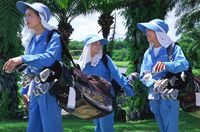 Over the next 2 days I will be writing about an amazing aspect of golfing in Thailand, namely the caddies. I often speak about this with friends and we all have the same conclusion, playing golf with a Thai caddie adds a whole new dimension to the game of golf and is a MUST experience for all golfers.
What can I say? For anyone who has not played golf in Thailand before, then the famous Thai caddies will be without doubt one of the unique and wonderful experiences of your golf holiday. However, be forewarned that when you return home you may never enjoy the game the game of golf due to the absence of Thai caddies!
Caddies are compulsory on all golf courses in Thailand and are included in the cost of your green fee. At a price of around 200 baht (approximately 5 US dollars) a round, this is surely the bargain of a lifetime.
In the main golf tourist locations, the caddies will all be female, with the majority being in their twenties. Extremely helpful, in the majority of cases very pretty, and with a great sense of humor, they generally come from a poorer rural background and really appreciate and value their jobs. However, please note that in the more remote courses that lie to the north of Bangkok, there will be a mixture of both male and female caddies, and of a wider age group, but nevertheless, they still provide a great service.
When you make a golf tee off reservation, your caddie is allocated as you arrive at the course, and will look after your clubs until you are ready to play. In the majority of cases, they will use a golf trolley to walk the course with you, but should you prefer to take a golf cart, then they will ride alongside and if requested even drive for you.
In some circumstances, it is not unusual to have 2 caddies, one for taking care of your clubs and play, whilst the other will keep an umbrella over you to provide shade, and a cool towel to mop the sweat of your brow. This is more than often used by the wealthier locals, but the service is there should you require it.
Tomorrow I will finish writing about these great caddies and cover things as over coming language barriers, etiquette, customs, and tipping,
This post has already been read 32 times!