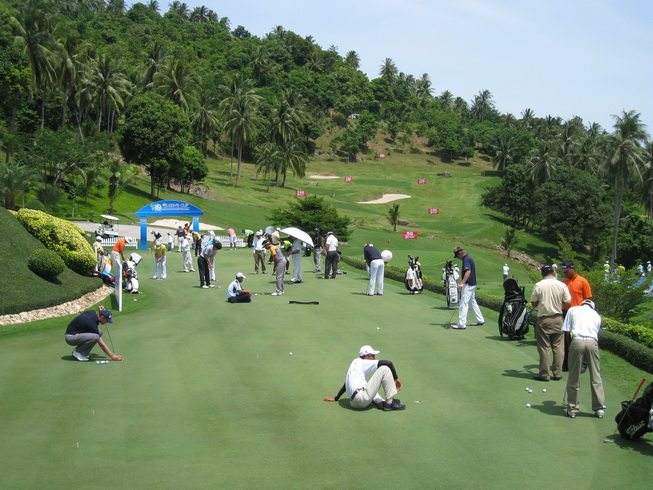 Travelling half way around the world to golf in Thailand is an experience if a lifetime. However the last thing you want to do on a Thailand golf holiday is miss allot of short putts during your rounds.
Golfers in Thailand probably face on average 10 short (less than 6 foot) putts in any given round. Master putting from this range and I bet you have an even better time golfing in Thailand.
But sinking 6 footers isn't as easy as it sounds. Confidence is a big factor and so is practice. I recommend getting a small putting mat at home where you can practice 10 minutes a day, regardless of the temperature or weather outside. In addition here are four tips on sinking short foot putts that will work for everyone on a Thailand golf holiday.
 
1.    Think speed more than line: I always aim for the back of the cup on short putts. The greens in Thailand are not very undulated, especially on the flatter Bangkok golf courses. Thailand golfers tend to focus only on the break on short putts, but speed is equally important. Putt aggressively, but not too aggressively to avoid a nasty lip out.


2.    Confirm the line.  If your putt looks dead straight, look again. Aim slightly left or right but don't give up the hole. I always keep the putt inside the 2 edges, no matter what advise my Thailand golf caddie gives me.
3.    Stroke through the ball under pressure. The most common miss is the push because Thai golfers tend to ease up on short putts. When the pressure is on, Thai golfers tend to hit at the ball instead of stroke through it, resulting in a push. The follow-through is just as important as the back swing. Make them both the same length and speed and you will sink practically every putt form short range.
4.    Stand with your eyes over the ball. There is nothing more difficulty than sinking short puts when you are not squarely over them to begin with. If you are unsure, hold a ball between your eyes and drop it. It should land on top of the ball on the ground. This simplifies things enormously for most on a Thailand golf holiday.
Follow these tips when on the golf course in Thailand, you'll drain six footers like a pro, and you will have a great time on your Thailand golf vacation. Otherwise, and if all else fails, you can also use a Gimme (America and Australia) or Given (India and Europe), just don't tell anyone that you heard this from me!
This post has already been read 11 times!