While the main objective in coming to Thailand is playing the many challenging and wonderful golf courses; you can also take advantage of some great deals whist shopping, especially at the many stores and side walk vendors selling golf equipment and accessories.
In addition to the wide choice of clubs available, Thailand offers tremendous value for golf accessories, including clothing, golf balls, shoes, head covers, eye wear, and training aids to name but a few.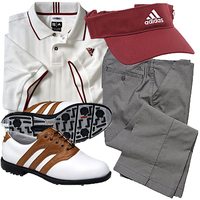 Golf clothing provides a particularly wide choice for visitors, with all the leading brands and new "alternate" materials available. Particularly popular now are the 'Dry Fit' shirts that many manufacturers have introduced into their range. Unlike traditional cotton shirts, they do not hug your body when wet, and are extremely comfortable. Many of the leading brands are available ensuring you look the part on the course.
In addition to shirts, there are also specially designed gloves and hats with the same principle for playing golf in the hotter climates. All are very reasonably priced and available in both ladies and men's sizes.
Sunglasses specially designed for golf are another accessory to consider whilst playing golf in Thailand. There is a huge choice available from both locally made to all of the designer brands.
Golf bags, from lightweight carry bags, to a large tour bags, can also be found in abundance. Sporting the manufacturer's logo, they come in various shapes, sizes and colors, giving you a wide choice to choose from.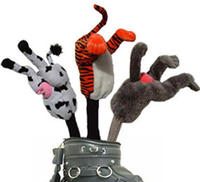 Another popular accessory in Thailand is the various 'animal' head covers that are now sported by many players. You may notice that Tiger Woods has a 'tiger' as the head cover for his driver. The Thais are very imaginative, to say the least, and have designed a multitude of different styles to suit everyone's taste.
Golf shoes, umbrellas, balls, towels and magnetic ball markers can all be found together with many other unusual golf items.
The prices are very competitive, and more than likely much less that you are used to paying, giving you a great opportunity to take advantage of Thailand's golf shopping facilities.
For more information on golf accessory shopping in Thailand see my post on the biggest golf shopping center in Asia, Bangkok's Thaniya Plaza.
Also, if you need to reach me you can contact me using this pre-made email form from my Thailand golf vacation company. I am glad to point all golf travelers in the right direction to purchase any desired golf accessory.
This post has already been read 12 times!