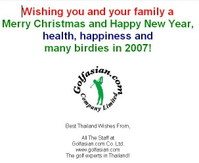 This will be the last Thailand golf post for 2006. As such, I wanted to personally thank everyone who has contributed and have become part of the steady growth of the Thailand golf zone. Looking back over the 148 posts in 2006, it has truly been a remarkable year.
We have here developed an excellent community of golfers all with genuine interest and great experience about golf in Thailand. You now regularly contribute and we have started to personally correspond about all sorts of topics and new ideas. This reader base and the dialog's continue to grow daily!
In addition, the Thailand golf zone has become the authoritative place to go for information about almost every aspect of golfing in Thailand, especially golf tourism. Numerous other blogs, web sites, newspapers, and magazines now regularly cite the information from past posts to further develop and expand upon Thailand golf travel.
Looking into next year there are a number of ongoing and very exciting developments in the Thailand golf scene. The current trend of 1 new course opening per month will continue as several new courses are just about complete and will open in early 2007. I will report on all of these. In addition, there are number of government and business initiates that will further ignite golf travel in Thailand. They also will all be reported on in due course (no pun intended).
In the meantime, I wish each and everyone a very joyous New Years Holiday and may 2007 bring many birdies to all!
As always, I would love to hear any Thai golf experiences you may have. Please feel free to post any comments here or if you prefer, and many seem to, feel free to contact me directly at my Thailand golf vacation company.
Happy New Year 2007!
Mark Siegel
Managing Director
Golfasian.com Co. Ltd.
https://www.golfasian.com and https://www.thailandgolfzone.com
The golf experts in Thailand!
This post has already been read 12 times!