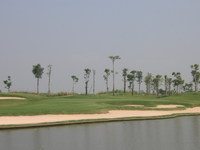 For Thailand's golf new years first post I thought it appropriate to take a look at Thailand's newest golf course, Cascata Golf Club. Opened only 2 months ago, this championship golf course is located in the Bangkok suburbs quite near the popular 36 hole Lam Luk Ka Country Club. Like its neighbor, driving to Cascata Golf Club takes around 80 minutes from Bangkok's city center. Although a little further than most of the Bangkok golf courses those making the journey to Cascata will be well rewarded.
I was pleasantly surprised when entering through the Mediterranean gateway, driving over canals and through rice field to find this magnificent gem. Someone is doing something right for sure as the golf course has the makings to join the ranks of some of Bangkok's other more well known championship golf venues, such as Thai Country Club and Alpine Golf and Sports Club. The local management has good experience as they also run the Jack Nicklaus designed Legacy Golf Club. The caddies are well trained coming from either the now closed World Trade Golf Club or neighboring Lam Luk Ka Country Club.
On the 7,047 yard course starting from the par 4, 392 yard 1st hole, a sharp dogleg right to an elevated and well guarded green, all the way through to the signature 12th, a par 5 520 yard hole with a huge waste bunker along the left side of the fairway, the course breathes of high quality and interesting design. The greens are large and generous without too many undulations. However, being constructed of well groomed modern turf over a well draining sandy base, they roll as fast of some of the Bangkok's best. The fairways are wide and for the most part flat, making for good lies for all well stuck shots. On the other hand, many of the green side bunkers have very steep walls demanding skillful sand play if one is to get out in one attempt.
Currently the course has many young planted and staked trees, allowing for free relief from errant drives and ensures good scores for both low and high handicappers. In the future, as the course matures, so will the difficulty. Also, as the course is very new, there are not many players, so tee times, even on weekends are readily available. I also expect this to drastically change as the word gets out on Cascata Golf Club.
One point to note is while the course is situated on a relatively compact parcel of land, making the green to tee walking distance rather short, there is a compulsory golf cart policy, which I personally feel detracts from the natural setting of the course and unnecessarily drives up the playing costs. In time, I am sure the management will look into this and reconsider the mandatory buggy policy.
If anyone would like directions to or have any further questions about Cascata Golf Club, please let me know by posting a comment or if you prefer you can email me directly at my Thailand golf vacation company.
This post has already been read 20 times!