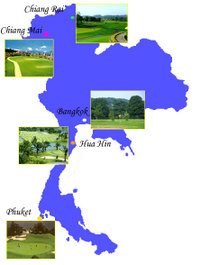 One of the best things in Thailand is the plethora of golf courses all within around 1 hour or less from each of 9 major city centers.
However, unless you know the exact location and best time to travel to each course, you could be in for some surprises as much of the course directions are in Thai only and oftentimes the "experienced" taxi and limousine drivers do not know the way.
Bangkok's infamous traffic is one of the few things that can ruin a good round of golf. Most of Bangkok's 60 courses can be reached within an hour, if you leave at the right time, and know the best way to go. Leaving at the right time is not so important if you are staying at a hotel close to an expressway, but this is not always possible especially if you are selective in your accommodation.
Leaving after 7:30 AM and you may spend a very long time just getting onto an expressway, which is necessary for almost every course in Bangkok. If you choose a reliable and experienced golf tour operator their drivers should know the quickest ways to and from the course, which should save you time and frustration.
Many of the courses located in Bangna Trat, including Summit Windmill Golf Club, Subhapruek Golf Club, and Green Valley Country Club are near (within 40 minutes) of the new Suvarnabhumi Airport. Bangkok's two leading golf courses, Thai Country Club and Alpine Golf and Sports Club, are both around an hour from the city center.
One of the best tips for minimizing driving times is to leave very early (before 6:30a.m), tee off early and arrive back in the afternoon. There is much less traffic in the afternoon compared to if you return during rush hour, from 4:30p.m onwards. Teeing off early will also avoid the busiest time and hottest weather as well as give you the rest of the day to enjoy shopping, a massage, or just lazing around the pool upon your return to your hotel.
What is the closest course to Suvarnbhumi Airport? The little known, but quite nice, Royal Golf and Country Club is a mere 15 minutes away.
What is the closest course to city center? Muang Kaew Golf Club advertises 25 minutes, and this is possible under light traffic. Navatanee Golf Club and Kreungthep Kreetha Sports Club can also be reached in 25 minutes as they are both within the outer ring road that traverses Bangkok.
What about upcountry? Well the good news is that in Phuket and Hua Hin all the courses are very easy to find and convenient to travel to at all times of the day, requiring only around 30 minutes to. The Royal Hua Hin course can even be walked (albeit a long one) from the town center.
In Phuket, Chiang Mai , and Chiang Rai the golf venues are more spread out requiring anywhere from 20 minutes to reach courses like Laguna Phuket and Chiang Mai Green Valley to over a hour to drive to the further out courses like Phuket's Thai Muang or Chiang Mai's Lamphun golf club.
The two other popular golf destinations in Thailand are Khao Yai and Kanchanaburi (River Kwai). Both these cities are very rural and not nearly as developed as the aforementioned locations. Therefore, you should plan for additional travel time and insist on taking a driver who knows the road; otherwise you may find yourself driving in circles or worse missing your appointed tee times.
If anyone has any Thaikand golf course travel stories please feel free to post a comment or if you prefer, send me an email at my Thailand golf vacation company.
This post has already been read 23 times!