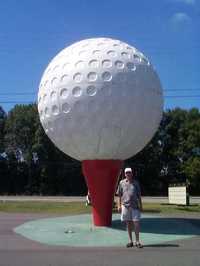 I guess that you will all have heard that old story of the desperate golfer who comes to Thailand and takes up a lesson with a local professional for help. The Thai golf professional asks the golf traveler to hit a few shots then says that he can see the problem: "You are standing too close to the ball – after you've hit it!"
But there is actually a serious fault that some of us have of standing too close to the ball at address. One of the reasons for this is because some people sole the club flat on the ground and then take their stance, assuming you are supposed to leave the club soled flat against the ground. This may sound logical, but the centrifugal force of the swing causes the toe to dip down – to prove this you can check your divots, they should be deeper towards the toe end.
So, when you set up, the toe should be higher than the heel, and that will move you a bit further away from the ball. At setup the distance between your hands and body should be at least 6 inches. Try if you can to keep this distance consistent.
This tip has oftentimes helped me to improve my golf ball striking consistency, always a welcome on course result. Let me know how it works for you by posting a comment or if you prefer just send me an email at my Thailand golf vacation company.
This post has already been read 13 times!