My name is Steve Hall.  I am originally from England but migrated to Australia just over 8 years ago.  We live on the beautiful South West Coast of Australia in a small place called Australind, approximately 2 hours South of Perth.   Here we are fortunate to be able to enjoy the outdoor life; lovely beaches, many BBQ's, beach fishing, numerous wineries and of course golf. I started to play golf with my sons when we first came to Australia and later, when we made friends with others who enjoyed the game too, I joined one of our local golf clubs called Sanctuary Golf Resort.  It is an 18-hole municipal golf course and can be quite challenging at times with its many lakes and sand bunkers.
Although I have been playing the game now for several years, I still have a rather high handicap; one I would not care to mention, but I am slowly getting it down.  My wife says she is proud of me for my sheer determination in continuing on but I do enjoy the sport, more on a good day, and especially the social side which comes with it.  It is our third time in Thailand but our first time golfing.  We chose Thailand and especially Hua Hin because it was highly recommended to us by our son.  He stayed there with friends a couple of years ago and was very impressed with both the area and the golf.  I found Golfasian on the internet, emailed them with our requirements and went from there.  We travelled with friends of ours, Scott and Sandra.  Neither of our wives play golf so we needed to make sure that there would be enough for them to do whilst we were off enjoying the game.  Golfasian came up with a very attractive package and before we knew it we were booked and ready to go.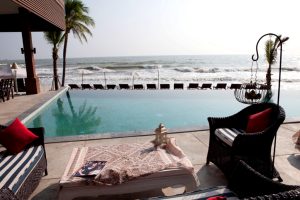 We stayed in Hua Hin for seven nights at the Hotel Baan Laksasubha Resort. A beautiful Colonial, Thai-designed property located right on the beach and close to all the shops, bars and restaurants.  The rooms and grounds were kept very clean and the staff were so friendly and helpful.   The infinity pool overlooking the beach was a big hit for us.
Our itinerary included three alternate days of golf where we played Springfield Royal Country Club, Banyan Golf Club and Black Mountain Golf Club.  The conditions of the courses were excellent but my favorite was Banyan because there I played a better game and although all our caddies were excellent, the caddies we had here were a lot of fun.  Whilst we played golf, the girls kept themselves entertained with shopping, massages, relaxing by the pool and lunch and cocktails at the beach bar.  After golf we would all relax by the pool with a cold beer.  What could be better.  In the evenings we dined at some of the wonderful restaurants Hua Hin has to offer.  The food was excellent and the people very friendly.
On one of the none golfing days we took a taxi to a winery which was just under an hour away.  "Winery in Thailand" I hear you say.  Yes, we could not believe it either and it did not cost much to get there.  It was set in beautiful lush green surroundings and reminded us of one of the wineries not far from where we live.  There we sampled some lovely wines ready to then order with our lunch.  The food was tasty but the portions a little small.
We spent another day fishing at the Hua Hin Fishing Lodge.  The surroundings were idyllic, relaxing and then explosive when you catch a fish.  Here the girls caught their biggest fish ever.  A nine kilo and eighteen kilo catfish.  It was amazing and an excellent day was had by all.
The simplicity of booking the holiday was excellent and we found the staff of Golfasian excellent too.  Travel from the airport in Bangkok to the hotel in Hua Hin and the return journey was the most comfortable we have experienced.  The whole Thailand golf experience from start to finish was fantastic and not only would we recommend this to others, including none golfers, but we are hoping to return again next year.  This time for longer in order to try out more golf courses.
This post has already been read 12 times!