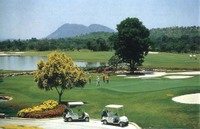 The Thailand golf high season is fast approaching and many of you maybe looking to take the golf holiday of your dreams. Therefore, I thought it appropriate timing to write on this important topic over the next 2 days. Much of the information I will cover is applicable not only to Thailand, but other destinations as well and I hope you find it useful.
When arranging your golf holiday in Thailand, it is always wise and recommended to compare offerings from more than one tour operator.
Unless you are getting quoted an exactly similar package, where upon the choice would purely be down to price, then you must take care in evaluating and comparing the different products you are being offered.
The majority of tour operators will offer you a package based on 3 components, hotel accommodation, golf, and transportation. It is important that you are clear which each of these components are actually providing, and your choice is not purely based on price.
For example, with regards to accommodation you may be quoted prices on 3, 4, or 5-star accommodations. You may feel you are getting a particularly good deal on one quote, whereas the actual accommodation they are offering may be at the lower end of one of these standards, as there is a huge variation of quality and price even within a particular category. . An example of this may be the location of the hotel, i.e., based outside the center of town, or even the age of the hotel. With many new hotels being built to cater for the increasing number of tourists, the older hotels which are a bit 'tired looking ' to say the least, will obviously try to compete on price as against quality. There is certainly nothing more frustrating than arriving on holiday and being disappointed with your recommended accommodation. I have experienced this personally on many occasions. Also be particularly leery of any operator who inflates star ratings, makes up their own categories, or claims something like 7-star ratings, they do not exist!
Room styles can also have a big effect on your overall package. In Thailand, a superior room often refers to the basic room in the hotel, which can be a bit misleading to say the least. Deluxe rooms are the better rooms and some will come with balcony and sea views for example. This can all make a difference to the cost of your package, but often times the better rooms will make a difference between a rather average vacation and a truly lifelong memorable holiday.
Tomorrow I will finish this post by discussing the golf courses and transportation components of any holiday package. In the meantime, if you would like more information or need to reach me you can contact me at my Thailand golf travel company.
This post has already been read 11 times!