Having reviewed the superb Chiang Mai Highlands golf course recently, I just got back from another short trip to Chiang Mai, this time with visitors doing the tourist "bit". Courtesy of blogs like this, for those of you who are novices to Thailand in respect of golf I'm guessing the destinations most familiar to you will be Pattaya, Phuket and Hua Hin (less so) for something that combines golf and other holiday-typical activities, in their case the beach.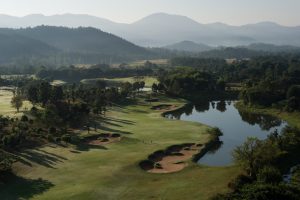 Chiang Mai turns out to be a bit of a dark horse (although no beach which will become obvious when you look at the map), offering superb golf (see Chiang Mai golf) plus plenty of things to enjoy when away from the links. Chiang Mai is my second favourite city in Thailand, just slightly behind Bangkok which I have grown to love. One of the reasons is that unlike Bangkok which tends to be hot all year round, Chiang Mai has a genuine "winter" period (end November until start April) when the temperatures can fall to the sublime mid twenties and prompt the actual wearing of a sweater (I only have one…threw all the others away). But that's just the icing on the cake. Rather than go into great detail, which you will be better served by reading the Lonely Planet guide, I'll provide an overview and give you just a taste.
The city is relatively compact and much more residential in feel which makes exploring on foot easy and fun. Whilst it has modern shopping, high rise hotels and commercial areas there are also myriad back streets with markets, small craft and coffee shops plus what seems like hundreds of small hotels and guest houses that cater for visitors, particularly those backpacking in Asia. In those back streets you may come across a beautiful temple or ancient monument which appears unexpectedly.  As you'd expect in Thailand, you are never far from "street food"which in this part of the world is subtly different (try the local speciality, Khao Soi, which is a delicious noodle curry with just a hint of Indian spices), but in recent years, because of the influx of foreign visitors and residents from the four corners of the world, there are all manner of restaurants and cuisines available…I particularly like The Swan, a Burmese restaurant in the centre of the tourist area.
Chiang Mai is surrounded by beautiful countryside, predominantly forest-covered hills and mountainous areas (on a small scale admittedly but spectacular nonetheless) including Doi Inthanon Thailand's highest point. This terrain provides the wonderful backdrop to many of the area's golf courses making them so different from others elsewhere in Thailand. Because the local area is largely rural the roads are quiet and in excellent condition because they don't get so much heavy traffic and exploring in a car is actually pleasant and stress free.
What of the golf itself? In Highlands, Alpine and the recently refurbished Gassan Legacy you have 3 of the finest courses in the country, all of which provide challenging yet rewarding experiences in gorgeous surroundings. There are others, of course, over a dozen and don't forget the superb Robert Trent Jones Santiburi near Chiang Rai, only a couple of hours away.  So there you have it…surprising Chiang Mai, give it a try you'll be delighted you did.
For information on Chiang Mai Golf Packages go to www.golfasian.com/golf-holidays/thailand/chiang-mai/ or contact info@golfasian.com
This post has already been read 11 times!