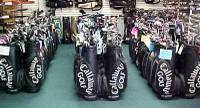 Most Thailand golf courses and Thailand golf travel agents offer rental golf sets and there is quite a difference in quality. At all but the best courses, like Thai Country Cub or Blue Canyon, the available golf clubs are generic brand clubs. The same is true for the Thailand golf agents. If you are booking a Thailand golf vacation through a golf tour operator, many of them carry their own rentals.
However, being in the business I can tell you without exception and contrary to what may be advertised, the branded rental clubs from agents are 100% fakes! While not disastrous, you should nevertheless be aware of the situation. These clubs usually look new and very good. The irons are practically indistinguishable from the real clubs, but you will probably notice a difference in performance, especially with the woods.

Thailand golf course club rental fees range between 600 and 1,000 baht a set a round. If you are planning on playing multiple rounds in Thailand and are on a tight budget, it may make financial sense to bring your own clubs. For left-handed golfers the choices are limited, and calling ahead to make sure the course has left handed rental sets available is a good idea. Some Thailand golf courses require a deposit or passport for renting clubs and few will reserve clubs in advance. So again, it's a good idea just to check on the day of play if there are any tournaments or large groups that may have taken all the rental clubs.
On the positive side, carrying clubs though airports and multiple destinations, especially smaller resorts and towns, can be a very big inconvenience. Regional airlines usually charge extra for checked in golf bags, as baggage allowances do not include golf clubs. Local transportation including buses, trains, and taxis generally do not have space to fit golf clubs. In these cases, the best option would be to arrange private transportation by limousine, SUV, or mini-van.
Weighing both the pros and cons of bringing your own golf clubs to Thailand, my advice is that if your trip is mainly for golf, you will be happier using your own clubs. You will feel more comfortable, confident and not have to get used to anything new, thus promoting better scores in the process. Also in the case where golfing in Thailand is your main holiday objective, you most likely would have booked your Thailand golf vacation through a specialized agent who is well equipped and has already factored in baggage transfers into your package. On the other hand, if you are traveling more for sightseeing, business, or have arranged your own golf and transfers, then I would suggest renting clubs at each course.
As a final thought, if you are a new golfer, or don't have clubs and are playing more than five rounds in Thailand, then another option is to purchase a set of cheap golf clubs. In Thaniya Plaza a whole set including bag, irons, putter, and woods can be purchases for as little as 10,000 baht. Personally I do not like playing with other people's clubs as there is nothing worse than standing over my golf ball and not knowing how far the ball will go. When I am hesitant, my shots carry the same result.
If anyone has any questions about rental club options while traveling in Thailand, please feel free to post your question here or if you prefer drop me an email at my Thailand golf vacation company and I will take care of the posting duties.
This post has already been read 16 times!