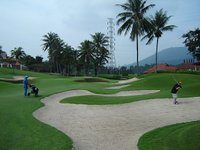 Here are my six suggestions to insure complete Phuket golf vacation satisfaction:
1. Golf: Well what else would be number one?
The magnificent seven! There are no less than 7 (or 8 depending on how you count) golf courses in (or near) Phuket. They are, in specific order of my personal preference;
Although all the courses deserve more of their own mention, Blue Canyon Country Club Canyon Course is by far the most famous being the site where the site of the 1998 Johnny Walker Classic — won by Tiger Woods who came from a last round 9 stroke deficit to beat Ernie Els in a sudden death playoff, one of the most spectacular finishes in golf ever. Blue Canyon will again host the Jonnie Walkker Classic, from March 1-4, 2007
2. Excursions: On days off from golfing in Phuket, or for non-golfers wanting a change from the pool or the beach, there is a wide range of activities on offer.
These activities include: big game fishing, the "June Bahtra" junk cruises, cave canoing, elephant trekking, white water rafting, jungle safaris, national parks and waterfalls, temples (especially Wat Chalong), museums, aquarium, orchid garden and Thai village, cashew nut factory, pearl farm, Thai cooking and dancing lessons, spas and massage, and a cobra show at the snake farm.
3. Island Hopping: Speedboat and island trips are available to Phi Phi Island, Krabi, Koh Kai , and Koh Nok and Koh Nui (my 2 favorites) with snorkeling and scuba diving available. Some tours specialize in sea village visits, others in cultural sites, and still others around shopping and handicrafts.
4. Romantic Sunset: Viewing the sunset from the hilltop vantage point on Laem (Cape) Promthep, Phuket's southernmost point, with fabulous views over the ocean is one of my favorite things to do while visiting Phuket, and it is free.
5. Dinner Shows: Phuket FantaSea is the most spectacular show, suitable for the whole family to see. It is a little "touristy" but worth it if it is your first time in Phuket. Also enjoyable is the Simon Cabaret. More low-key is the Sphinx Restaurant & Theatre on Rat-U-Thit Rd in Patong, with twice-nightly dance shows and rendition of Broadway hits and other classics in its well-appointed upstairs theater, for only 300 Baht per show.
6. Shopping: Phuket Town with its funky shops has a good variety of outlets where you can pick up unusual inexpensive gifts to take home. The Central-Big C shopping complexes and surrounding areas are worth a visit for inexpensive items. Near to the Heroines' Monument is the cash and carry where the locals shop for cheap food, liquor, tobacco and other consumables..
Arrangements for all of these activities can be made on the spot, or a specialized Thailand golf travel agent can prearrange a complete program for golf and leisure insuring you enjoy all Phuket has to offer.
If anyone has any good Phuket suggestions please post a comment here or drop me an email at my Thailand golf vacation company and I will take care of the posting duties.
This post has already been read 9 times!