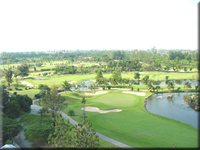 Playing golf in Thailand is a wonderful experience, from the excellent and challenging courses, to the fantastic hotel accommodations, everything adds up to a very memorable experience.
Whilst Thailand offers great value for money for a golfing holiday, I do appreciate that many visitors are concerned about the potential cost of a golf vacation, and may be looking for a low cost option. In view of this, I hope the following post will serve as a guideline on how to visit on a limited budget, yet still enjoy your golf and all the other things this wonderful country can offer.
The majority of golf tour operators will provide either a packaged holiday, or customized holiday, including golf, transportation and accommodation. This will involve varying degrees of styles of accommodation, from 3 star tourist to 5 star luxury hotels, and more often will include the more popular and well known courses for the majority of visiting tourists. These courses are specifically set up for the tourist market, both their location and facilities are geared for this, and therefore their costs reflects this (i.e. are on the higher side).
Tomorrow in Part 2 of this post I will cover the various low cost options and reveal 2 secret destinations that you will be able to find some of the best golf in Thailand for as little as $10 US dollars per round. Stay tuned!
This post has already been read 9 times!