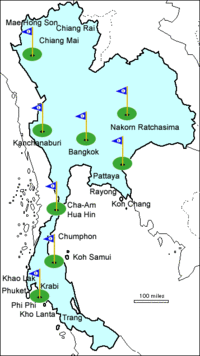 For the more budget conscious golf traveler, Thailand can provide much more economical alternatives for you, by simply looking outside the more popular tourist locations. Here are 2 relatively unknown golf destinations to consider.
Many of the courses located north of Bangkok, in Nakorn Ratchasima province, the location of Thailand's largest national park (Khao Yai), can provide golf for some amazingly low prices, $10 US dollars per round on the weekdays. A couple of these courses that I like include Voyage Panorama and Friendship Meadows, both cut right of the jungle and feature live monkeys playing alongside some of the fairways. In addition, the Kanchanaburi area, better known for the location of the bridge over the River Kwai and North West of Bangkok, hosts several excellent courses also with $10 US dollar green fees. Courses like Royal Ratchaburi and Dragon Hills provide fantastic challenges, and some locals consider them among the very best courses in Thailand. Moreover, these courses are located in very remote mountainous areas thus they also provide some stunning limestone rock formations and outcroppings that you are unlikely to find anywhere else in the world.
Even in Bangkok, there are a large number of excellent courses that are owned by either the Royal Thai Army, Navy, or Air Force, which were initially set up to accommodate golf for the officers of such organizations. However, the majority of these courses are also open to the public. Priced at around $15 US dollars on weekdays and $25 US dollars on weekends these courses all represent a great value for money. One which I previously wrote about is even located between the 2 active runways at Bangkok's Don Muang International airport and you can play golf within 50 meters of landing 747's. Be careful not to slice too much or you might hit a real landing airplane, no joking!.
With regards to accommodation, the choice is very wide and varied. From small guest houses, to the wide variety and styles of rooms available in the many hotels, you can find something to suit every budget.
Accommodation costs obviously not only reflect the quality, but also the location. Similar to the golf, by staying away from the more popular destinations, you will find prices for the more out of the way accommodations to start from as little as $15 US dollars per night. This combined with the golf mentioned above, will provide you with very economical golf travel alternatives for consideration.
Tomorrow, in the final part of this post I will explain 2 final ideas to get the maximum value from playing golf in Thailand. I guarantee you will be surprised by at least one of the suggestions. Anyone care to try to guess what I am referring to?
This post has already been read 8 times!