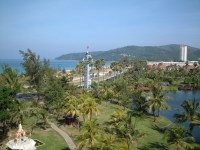 This is the time of year when many of you will be jetting into Thailand for your annual golf holiday, escaping the snow and ice in your home country. What better destination than Phuket, with its beautiful white sand beaches, fine cuisine and exciting night-life? Here are three tips for when you first arrive on this tropical island to ensure the smooth beginning of your Phuket golf holiday.

1. Phuket Airport has a Domestic and International Terminal, both housed in the same building. If you arrive in Domestic and your baggage is not on the carousel, don't panic! Because many flights into Phuket carry both domestic and international passengers, most likely your bags can be found a short walk away in International Arrivals!
2. If your Thailand golf travel agent or your hotel has arranged your transportation for you (it is always better to book it in advance), proceed out of the terminal through the exit doors opposite International Arrivals and look for a sign with your name on it. If you have not already booked, it is best to take an airport limo via the desks in front of Domestic Arrivals, or a seat on a mini bus.
It has been reported that some the drivers of the limousine service at Phuket Airport sometimes try telling you that your booked or chosen hotel is not in operation, or something similar, and try to bring you to "a friend's" agency or hotel instead. Don't fall for it as this is a scam of the limousine drivers to extort huge commissions from the hotels – for which you have to pay.
The drive to the main tourist areas of Patong and Karon/Kata Beaches takes around 45 minutes on good, fast roads. There are no meter taxis or public bus services from the airport in Phuket. As with all of the airports in Thailand, avoid the touts. If you cannot immediately see the service you have booked, retreat back into the airport building and get help.
3. There are lots of banks and exchange booths both in Phuket Airport and in the main tourist areas such as Patong and Karon/Kata Beaches and Laguna Resort. They are all competitive and it is much better to change your foreign currency there than at your hotel. You need to have your passport if you are exchanging travelers' checks or getting cash (or shopping) with your credit card.
If you have any good arrival stories or tips please feel free to post a comment or if you prefer you can drop me an email at my Thailand golf vacation company.
This post has already been read 8 times!