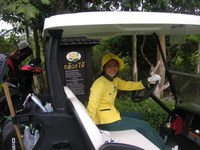 Here is the latest Pattaya city and golf scene information. I had the good fortune of spending a long weekend in Pattaya these past 3 days and I came away with two thoughts.
(1) The city continues to be unimpressive, in spite of the enormous ongoing construction projects, and (2) it is shame that there is such excellent golf in the area. Let me explain.
First the golf. Playing at my 2 favorite courses (Laem Chabang and St. Andrews 2000) was pure joy. The golf clubs were fully booked each day, but despite the popularity, my 5 hour rounds were of reasonable speed. Golf course conditions were superb as the fairways reminded me of someone's living room carpet and the greens were both rolling fast without a hint of top dressing and at the same time were able to hold well struck approach shots.
The 800+ yard St. Andrews 4th and 13th par 6 holes, usually a comedy act for me, proved to better than expected as I was able to make par and bogey, respectively. These 2 holes alone made my day, as I was able to get match play points against my opponents and bragging rights for the best scores of the day.
At Laem Chabang, I usually opt for the more challenging Mountain 9 together with either Lakes or Valley courses. However, as the course was fully booked, I was assigned the Lakes-Valley courses. Playing this combination makes me re-assess prior recommendations concerning the Mountain course as my feeling is that all 3 of the 9's are of excellent quality and any of the combinations will satisfy golfers of all abilities. In fact, in my opinion the Lakes course is probably the best of the 3 nines in terms of quality and variety and when combined with the Valley course it probably makes the better match of 18 holes.
Now, here are my thoughts on Pattaya city itself. I am always hearing about ongoing improvements as more and more infrastructure projects get announced and completed. However, as will all past visits, on this trip I could not find anything. The town is as dirty as ever, continues to attract the lowest type of traveler, and is over run and over crowded with girls plying their street trades, almost all of whom are quite ugly. For these types of activities even Bangkok a much better choice as the selection is wider and quality higher.
In any case, the Pattaya golf courses should not be dismissed solely on their proximity to Pattaya city and my recommendation to take full advantage of the excellent golf in the area is to stay at one of the better resorts such as the Dusit or Marriott. It is here where you can get good service on par with the quality of the top nearby courses (no pun intended)!
I am sure there are other satisfactory options and would be interested in hearing from some expatriates who live in the area or golf visitors having recently traveled to Pattaya. Please feel free to post a comment here or drop me at Golfasian.