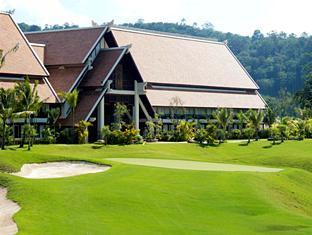 I have been thinking about this for quite some time and the short answer is yes and no.
Considering the glamorous location that Phuket is perceived to be, I have often though the quality of the 5* hotels are not up standard they should be. Many of the so-called luxury resorts are quite old and in serious need of renovation.
There are exceptions with hotels like the Andara, Paresa and Trisara resorts, but generally the hotels seem to be more geared for large corporate groups and lacking the intimacy of a genuine five star product. A common complaint is that the hotel rooms are small and in need of some care, Unfortunately the recession took care of the new Grand Hyatt and Shangri La projects, but the good news for Phuket is that a number of new top quality hotels are about to open in the next year including a Park Hyatt and the Kalima Resort & Spa which hopefully will raise the standard of the top end of the market. 


As for golf resorts, Phuket is much different from other golf holiday destinations where large 5* branded hotels like Marriott, Fairmont, or Ritz-Carlton manage luxury resorts that are attached to some of the world's best golf courses. Rather, Phuket golf resorts are self and locally managed properties that primarily focus on economy. Blue Canyon, Loch Palm – Red Mountain, Laguna, and Mission Hills all have on-site golf resort accommodations. In each case, the hotels attached to the golf course are good for playing multiple rounds at the same course, but might not be that convenient if you want to golf at all of Phuket's golf courses or visit Phuket's best sights. On the other hand, the money saved at the Phuket golf resort might equal the costs for hiring your own car and the later allows you to get around the island when and how you want.
I guess Phuket has something for everyone, whether it a leading 5-star hotel or locally managed golf resort, you can find what you prefer.
This post has already been read 11 times!