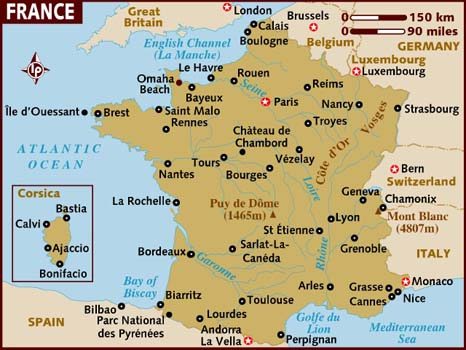 Here are my rankings on the golfing in these 2 countries on a scale of 1-10 with 10 being best.
Quality (30%)
France (8): Excellent golf courses are found in almost every area of France. The most popular areas for golf holidays are Le Touquet in the north, Paris and its surroundings, and Biarritz and Bordeaux in the south. The best golf courses in France include Golf National near Paris and the Evian Masters Golf Club in the Alps.
Thailand (7): Golf courses in Thailand are spread out across the country. From the Trent Jones designed Santiburi Chiang Rai Country Club the far north to the spectacular Red Mountain Golf Club on Phuket Island in the south, tracks for every taste can be played all over Thailand.
Service (25%)
France (4): Unless you are French, forget about anything close to first class service. Most locals prefer to speak only French and hardly go out of their way to make a golf holidaymakers time in country easy or convenient. However, at some of the better resorts, well-trained overseas workers can make up for some of lacking French hospitality.
Thailand (10): Thailand is world renown for service, and golf in Thailand is no exception. Just ask any Thai person for help and you might have a friend for life! This service mindset is prevalent at every golf course and resort, irrespective of the service ranking or price.
Golfing Experience (25%)
France (8): France is a popular golf holiday destination, especially with Europeans. Excellent cuisine, temperate climate, rich culture & history, and stunning scenery all add to the overall golf experience.
Thailand (10): Golf in a Kingdom is all about the Thai golf experience. If you have not golfed in Thailand, then it is hard to imagine. However, there is a reason why Thailand is Asia's biggest and fastest growing golf holiday destination.
Value For Money (20%)
France (5): France is a cost effective golf destination to reach for most Europeans. However, as with most European prices, France golf holiday costs are among the highest, especially costs for green fees, hotels, and food and beverages.
Thailand (8): Thailand golf holidays are affordable. Accommodations and food and beverages in particular are all reasonably priced. Green fees top out at $180 US Dollars on Phuket Island. However, golf at other popular locations like Hua Hin and Chiang Mai can be played for $100 US Dollars or less. Many golfers visit Thailand from June to September when costs can be lower than 50% of the costs at other times of the year, especially when staying at a 5* resort.
Overall Verdict (100%)
France (6.40): France is a beautiful golf destination with excellent golf courses. It is especially popular with Europeans looking for a short golf break. The summer weather is always good for golf and the food and culture are the best in Europe.
 
Thailand (8.70): Thailand wins over the France due to superior service and better value-for money. Many golfer travelers who once visited Thailand on a golf trip now make Thailand their permanent home.
Stay tuned for the next world golf challenge to see how Thailand stacks up against other golf destinations. Let me know if you want to see your country included in my survey.
This post has already been read 10 times!