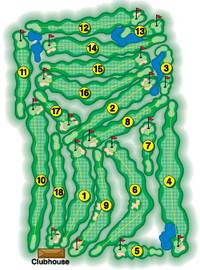 I trust everyone had a nice weekend and along with some great golf. Well here is the second part of the post I started last Friday.
The final 4 points to consider, when making golf bookings in Thailand are,
1. Prior to your arrival, you will need to again confirm your booking in order to avoid any mistakes such as double bookings mistakes that may have been made by the course's reservations staff. This is a common situation I regularly encounter
2. Upon arrival, how do you select the best travel arrangements to get to and from the course? If you are not familiar with the exact location, how to you allow for time? Local taxis are a very cheap option, but often the drivers will not know the way and may not speak English. If the course is busy and you are late for your tee off time, chances are you will not be allowed to play. Hotel transportation is a good option, albeit expensive.
3. Course maintenance. How do you ensure there is no maintenance work being undertaken at the course. Unless asked, the course is unlikely to give any details or warnings. Please be sure to phone the golf course ahead of time to ensure satisfactory playing conditions. Getting help form a Thai speaking person would greatly facilitate this.
4. What happens should you require any changes during your vacation? This will lead to telephone calls with the courses, more FAX, and potentially unsatisfactory golf tee times which would certainly put a damper on your holiday. Letting someone else take care of these matters will insure that changes can be made smoothly and without penalty, thus assuring you of a relaxing and wonderful golfing holiday.
These are the main points that you must be aware of whilst making your own golf tee off reservations.
Of course, having my own golf travel business and being naturally very biased, I always recommend that in order to avoid the many potential problems that can arise, you select a well established, reputable golf travel agent to organize everything for you.
With local English speaking staff, up to date knowledge of all the courses, and your best interests at heart, this will guarantee an enjoyable holiday. True, making reservations through a reputable agent is more expensive than doing things yourself. However, unless you lots of free time, miles of patience, and really enjoy doing things yourself, it only makes sense to entrust your valuable golf holiday to a Thailand golf expert.
Have a great day and remember think positive and you WILL shoot par!
This post has already been read 11 times!