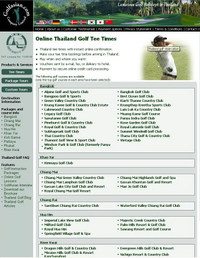 Many tourists who visit Thailand on a golfing holiday, like to be responsible for organizing their own affairs, from hotel reservations to booking golf tee off times. Over the next two posts (today and Monday, weekends will be golf not writing days from now on) I will point out the 7 things to consider before choosing this route. By getting familiar with the in's and out's of making tee time reservations in Thailand you can ensure yourself a great golfing vacation, whether you choose to do things yourself or not!
There is no doubt that the Internet is both a valuable and very useful source of information, providing you with the opportunity of being able to make reservations and payments on line.
However, with regards to making golf tee off reservations, there are many areas that you must take extreme care with, in order to not be disappointed during your visit.
Here are the first 3 of 7 points to consider, when making golf bookings in Thailand.
1. There are many fine courses in Thailand, and you must ensure you are choosing the best available based on quality, value, and especially important during peak seasons, crowdedness. Unless you are a frequent visitor to Thailand, who has played many of these courses, this information may be difficult access.
2. What about the many new courses that are opening on a regular basis. Some are of excellent standard and you may be missing out if you are not aware of these. Although some course information is available on the Internet, this is usually not the case for new courses.
3. When booking a tee off time, it is most unlikely you will be able to make reservation on the Internet or email as the Thai golf courses are for a rule not Internet savvy or technologically advanced. The golf courses all still require written confirmation by FAX, and you must ensure that you receive evidence in this manner from the course itself. If not, this will lead to problems upon your arrival and your so-called tee times will be lost.
This post has already been read 9 times!