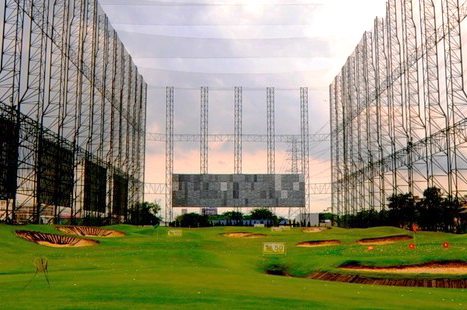 Given that there are many golf holidaymakers in Bangkok, there are bound to be some staying at a hotel in the city center who wants to just get out to a range to hit some balls. Here are a five of my favorite ranges where any Bangkok golfer can get their game on without leaving the city.
1. All-Star Golf Complex
A popular one-stop destination for Bangkok golfers, All-Star has retail golf equipment shops, short-game practice facilities and a quality long-distance driving range with new Srixon golf balls. This is the place where Bangkok locals go to hone their game and try out the latest models of equipment.
2. 42 Tee Off
A short walk from the Prakanong BTS, this two-story driving range is the place to practice for those staying in the any of the popular Sukhumvit area hotels. Insider tip: Go before noon or after 5PM as hitting into direct sunlight in the afternoon makes for very hot practice sessions and can be literally blinding when tracking your balls in the sun.


3. 247 Yard Driving Range
This is the place to practice for those who stating in the Ratchadapisek area. The 247 range is open-air facility with 40 driving bays on the grounds of the Chaophrya Park Hotel. The range is known for its cheery staff and even offers Thai massage for those who like to combine some golf practice with some relaxation. The hitting area is narrow, but presumably that just helps to hone your fairway game. The restaurant serves some very good Thai dishes at prices of around US$3 per plate! 
4. RCA Driving Range
Proving there is more than one way to hit the clubs, RCA's two-storey driving complex is in one of Bangkok's most infamous nightlife zones, and is popular for its central location. Go in the evening, hit some balls and then pop into one of the many trendy clubs just outside and see how local Thais party.
5. Dusit Thani Hotel
Weird, but true! A 50 yard mini-driving range sits atop the Dusit Thani Bangkok smack in the center of Bangkok. While the short length may not be for everyone if you are staying at a Silom hotel and want to hit a few balls it is good to know you can do so in less than 10 minutes.  Good for honing ones short game.
Well now that you know what's available in Bangkok why not get out and hit some balls in between golf games.
This post has already been read 15 times!