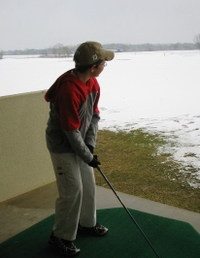 When was the last time you picked up your golf clubs?
The winter has finally hit the USA and Europe and the short cold days means that golf is, at best, difficult. More likely, even for the die hard golfers, playing has become a difficult experience, practicing is out of the questions, and instead of being in the trunk of your car, your golf clubs reside in some closet at home. Late March and longer days will be evident; warmer weather cannot come quick enough!
What is going to happen in April?
You are going to get all excited when you get an hour's more sleep because you know that the spring is on the way. You dust off the clubs and make sure the grooves are all cleaned up (probably the only time in the year that you perform this task). You make it to the golf club and spend the next 2 weeks to a month trying to get your game back. Isn't it amazing how bad your putting and short game can be after a winter layoff?
Now, here's the thought.
How about getting a head start this year by sharpening up your game whilst your friend's games all goes to pot? As easy as it sounds, hop on a plane to sunny and warm Thailand – just you and your clubs. Enjoy the famous Thai hospitality whilst playing some great courses. Maybe even have a few golf lessons and, upon your return to wherever, surprise all your golf friends by taking all their money straight from the beginning of the season. They will definitely want to know how come you are driving the ball so much straighter and, where did you learn that new chipping technique?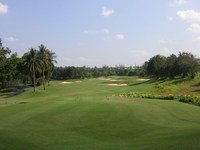 Beats the hell out of only seeing your clubs when you are taking out your heavily winter coat to go shopping on a Saturday morning!
Now everyone has their own work, family, and budget excuses. But really, when was the last time you did something for yourself, kind of like giving yourself a birthday present, just a little early! There is nothing to worry about, whatever things you miss when away, they will wait and you will be most happy on your return. You can either read one of my past posts on arranging your own Thailand golf trip or if you prefer, just drop me a line at at my Thailand golf vacation company and I will be glad to put together a short personalized and cost effective Thailand golf break with some lessons if so desired.
This post has already been read 11 times!