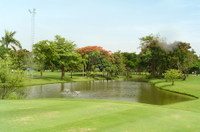 Do you not find it frustrating that there some Thailand golf courses that you play on where you normally score well, and others which, for some reason, you struggle on? One of the later such golf courses for me is the Krungthep Kreetha Sports Club on the eastern side of Bangkok, only around 30 minutes from the Sukhumvit and Silom tourist areas.
Krungthep Kreetha is not well known among travelers who golf in Thailand as it is rarely included in Bangkok golf packages. The original golf club opened in 1969, so it is one of the older layouts in Bangkok. I used to play this course regularly in the early 90's (that being the year, as well as my score usual score!) when I was coming to Bangkok weekly for business. At that time, it was already a demanding test of golf with large mature trees and many hidden water hazards in the form of shallow channels.
In 1995, the course was completely rebuilt by Mr. James R. Vaughn. Now Krungthep Kreetha, even more mature, resembles a grand Victorian English park with its attractive layout and an abundance of majestic trees that overlook the fairways, probably more trees than on any other Bangkok golf course.
Although this Par 72 course is not particularly long (6, 870 yards off the men's tees), most holes feature water and/or out of bounds on both sides of the fairway. The Par 4 1st hole can ruin any chances of a good score very quickly, and the Par 5 2nd hole is equally difficult with a narrow fairway and water hazards, which lie all around the course like craters on the moon's surface, on both sides. These hazards call for accurate tee shots on almost every one of the 18 holes otherwise you will never make many of the elevated greens which, although somewhat difficult to read, are among Thailand's truest – trust your experienced caddie here. A new clubhouse serving excellent Thai food has recently been built and there are complete practice facilities and an often empty large driving range. Tee times are sometimes difficult to find, as the course fills up mostly with local members due to the close proximity to town, but most Bangkok golf agents can book ahead and have blocked tee times for their Thailand golf visitors.
If you have played at Krungthep Kreetha I am sure all Thailand Golf Zone readers would like to hear of your experiences, so do feel free to post a comment. If you have not played this wonderful Bangkok golf course and would like any assistance to book tee times, free to drop me a line at my Thailand golf vacation and I will be glad to provide assistance.
This post has already been read 17 times!