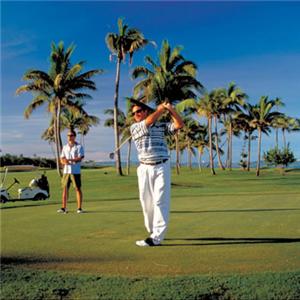 Here are 4 more cost saving ideas for your next Thailand golf vacation.
5. ACCOMMODATIONS
We are seeing some travelers stepping down this year from 5 star to 4 star hotels, and others from 4 star to 3.5 star.  And for those who do want to keep the same standard as before, some hotels are offering special deals such as free room upgrades or perhaps a free night after x number of paid nights. This can bring the cost per night down significantly. Local agents will usually have the best and latest information from each resort.
6. COURSE SELECTION
In each golf destination there are typically some higher priced premium 'name' courses, some 'best value' courses, and perhaps some 'best kept secrets' many golfers aren't even familiar with.  The clubhouse might not be as impressive at the value courses, you might not see as many pretty flowers, and maybe the turf isn't perfect, but if it's a good design and in good condition its still a great day of golf.  Many golfers opt to play some of the top courses and at the same time mix in some best values to keep the total cost down. This tip also adds to the variety of a Thailand golf holiday as most travelers will usually find one "hidden gem" in the pack and ask why they didn't know about that course on their prior trips. Specialist golf agents have this kind of information and can make excellent course selections to match any budget and any objective.
7. BRING YOUR BUDDIES
Ground transportation can be a significant portion of the total cost for a golf holiday.  With two golfers the ground transportation is 50% of the cost for a single since you share driver and vehicle expenses.  With four or six you can save up to 80% on transportation costs, which really is a good deal. The same is true for hotel rooms, single rooms are more comfortable, but sharing can save significantly on the accommodations. Some travelers on multi-destination golf tours opt for double rooms at higher priced hotels and single rooms in more economical destinations. This gives the best of both worlds, comfort and value!
8. ASK YOUR AGENT
Tell your agent or us what you have in mind for your next golf holiday, and ask how you can save some money.  A good agent knows the market and can provide valuable guidance. We do this all the time and do not charge anything for advice and suggestions.
Did you find any of these tips useful? Please let me know by dropping me an email at my Thailand golf holiday company.
This post has already been read 12 times!