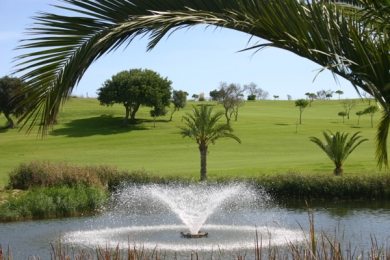 With all the economic gloom and doom these days, many golfers are looking for ways to save money on their next Thailand golf tour and yet still have a great golf holiday.  Over the next 2 posts I will summarize 8 ways our clients are doing just that:
1, TIMING
Hotel prices can fluctuate significantly throughout the year depending on season.  This is particularly true for beach destinations such as Phuket, Hua Hin, Pattaya and Samui.  'High Season' for tourism and prices in these areas runs November – April, with 'Peak High Season' lasting from mid December through mid January.  You can save a lot by visiting these areas in the May – October Low Season and the weather is still good (though some call it the rain season, the rains are mostly very brief showers passing through in late afternoon – having a round of golf rained out is very rare in Thailand).
2. LOCATION
Certain areas offer more value than others.  In Thailand, the golf destinations offering the most for the money are Chiang Mai and Pattaya where golf, hotels and dining/entertainment are all less expensive than other prime areas like Bangkok, Phuket and Hua Hin. Lower prices however do not mean lower quality. Golf in both Pattaya and Chiang Mai is still very good. There are even excellent courses like Chiang Mai highlands and Siam Country Club in Chiang Mai and Pattaya, respectively.
3. ITINERARY
Scheduling golf on certain days of can save money. Member courses and those near large cities usually charge more on weekends and national holidays since they cater to locals who mainly play those days.  This is particularly true in Bangkok, and most courses in Pattaya and Chiang Mai also charge more for weekends and holidays.  As Hua Hin and Phuket cater almost exclusively to travelers, prices are the same weekends and weekdays there. This tip also has the benefit of avoiding large crowds and slow play sometimes encountered on the weekends.
4. AIRFARE
Airfares can be a mystery to even the most seasoned travelers, though there are often ways to cut costs.  If your travel dates are flexible you might be able to fly for less by traveling mid-week.  Routing is also key and adding a connection can bring down the price considerably.  In North America you get the best values to Asia by flying out of Los Angeles where virtually all the US and Asian airlines operate and competition is keen.  Some Europeans have told us by connecting through the UAE the cost was much less than flying direct to Asia.  Airlines also frequently offer promotions, so check several options.
Thursday I will finish this post with 4 more Thailand golf holiday cost savings tips. In the meantime, do let me know of your experiences and what you are doing do save costs in these difficult economic times.
This post has already been read 10 times!