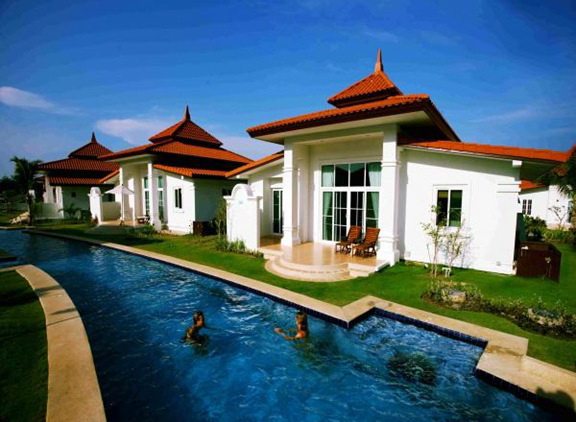 It's not always easy to recommend the right accommodation for a golf holiday. For example, there are many excellent value-for-money hotels that can make a Thailand golf package very affordable. Great deals can often found from May to October on the beach resorts of Phuket and Hua Hin where hotels sell at less than half their normal cost during the high season.
However, for some, luxury is more important than price. At the other end of the spectrum there are some 6-star properties that are truly luxurious luxury and will create an once-in-a-lifetime Thailand golf holiday memory. These properties can be found mostly in Phuket and Hua Hin.
For golf buddy groups and families, staying together is more important than anything else. In this case, a large villa or multi-bedroom suite can be a great option. My friend Ian recently visited some new Phuket golf villas near Blue Canyon. The villa owner lives on site, cooks breakfast, takes orders from the fresh market to cook in the evening after golf, arranges for in-villa massages, and practically everything else imaginable. This really comes across as a very relaxing way to enjoy a golfing trip with total privacy away from the main tourist areas.
Personally I favor, and often stay at, 4-star properties, as I cannot get the full value of a 5-star hotel when I am out golfing each day. Moreover, when I travel with friends I like that I can get a large 60 sq meter room in 4-star hotel for less than half the price of a similar size room in a 5-star hotel. This makes it easy for those who like to share rooms or use one room as the central gathering/partying place when traveling with friends. Excellent 4-star golf properties can be found in Pattaya, Hua Hin, and Chiang Mai.
Whatever one's preference, it can most likely be found as there are over 1000 hotels scattered throughout all of the main Thailand golf destinations.
This post has already been read 10 times!