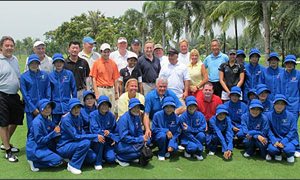 It is sometimes easy to get carried away talking about how wonderful playing golf in Thailand really is, especially as I live here. Therefore, it was rather refreshing to hear from some overseas journalists that they also agree with me; playing golf in Thailand is a great experience.
A few months ago I hosted sixteen editors and journalists representing golf magazines in the USA and Europe. They sampled some of Thailand's best golf courses including Thai Country Club, Chiang Mai Highlands, and Siam Country Club.
The party included respected journalists from Golf Monthly and the Daily Telegraph in the UK and the massively influential Golf Digest from the United States. Journalists get to travel lot as it goes with their territory, and some I have met in the past can be quite hardnosed and hard to impress. This group were however in great form, and already the magic of the Thai golf courses plus the people and the culture has begun to weave its magic spell.


They were also checking out the cultural attractions as they went along, so it was interesting to get some of their early observations about Thailand golf vacations.
James Mason from the UK's Golf Monthly and Planetgolfreview.com said, "This is my first visit to golf in Thailand and I am pleasantly surprised by the huge variety and excellent standard of the golf courses. I would give these courses 8 out of 10 for condition with no hesitation."
Peter Swain a respected freelance journalist  working for the Daily Telegraph in England commented "The caddie experience which is unique to Thailand, is a huge bonus and a lot of fun, which only goes to back up what are fine quality courses in the first place." Peter went on with me privately to golf in Phuket, which was even better!
Steven Hahn, a Golf Course Ranking Panellist with Golf Digest in America added, "Having travelled, over thirty years, to more than a hundred cities around the world in search of great golf courses, I would be hard pressed to name a golf destination, outside of Thailand, that offers such a combination of superb golf courses and great cultural sightseeing.  The hotels are world class and the restaurants are fabulous. As a couple's golf retreat, Thailand is perfect."
Some very high praise from respected journalists who get to play on some of the top golf resorts around the world.  Isn't it great that living in Thailand I get my dose of golf magic in "Golf In A  Kingdom" all year round!
This post has already been read 11 times!