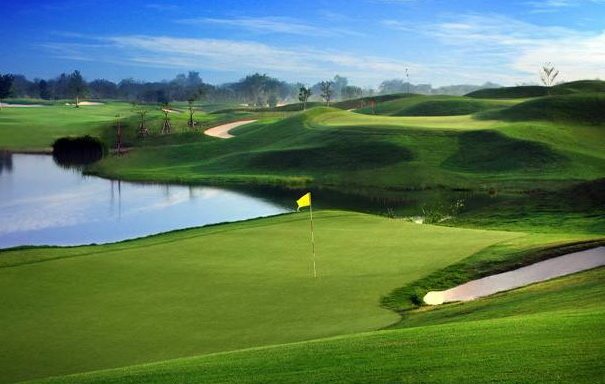 Many golf course designers forget that 90% of the players who will try to conquer their golf course are likely to be weekend or holiday amateurs, not golf professionals.
Jack Nicklaus for example is incensed when he sees owners trying to extend the tee boxes to make holes as long as possible. 'Why go for 250 yard carries when your average Thai golfer probably only hits his drive 170-190 yards. It also adds to the maintenance costs and watering bill.'
It was therefore refreshing to meet and speak with one of Thailand's leading course architects Pirapon Namatra, famed for creating Santiburi Samui, Banyan Golf Club and the subject of this post; Bangsai Country Club. Pirapon who designs, creates and builds golf courses said 'I try to create a fun golf course, with a variety of holes, making it not too easy and not too difficult to play.'


Opened in 1996 as an 18 hole course, Bangsai is a nature lover's course offering peace and tranquillity yet a very challenging game, each hole having its own character.  The recently completed extra nine holes, plus the renovated the existing 18 holes, make Bangkok one of Bangkok's secret gems.
Players have the opportunity of combining nine holes on the original front nine known as the 'A' course with either back nine  'B' course or the new 'C'  course. I played all three!
The 'A' course i the most picturesque with a fairly friendly par four to start off. Every hole here is exciting to play, with massive sand dunes reminiscent of a Scottish glen coming into play on holes 3, 4 and 5. There are definitely some 'Wow' factor holes here!
Course 'B' is the longest of the three sections, at 3,241 yards from start to finish. Here water and parkland come into play and although more conventional it is the hardest nine holes to conquer.
Course 'C' is the new kid on the block and is a completely different experience with more of a 'links style' open to all the elements. The greens and the fairways are large and the holes are located around a huge lake. Hardly any trees and bunkers come into play, but beware of the undulations and the wind. To finish off your round, the 9t has the largest green in Thailand, measuring a massive 2,000m2. Three flags are spread out across the green, and the golfer leading off the hole gets to choose which one is in play for the group.
The club house is also brand new with first class changing rooms, a pro shop and a wonderful restaurant facing several of the holes.
Bangsai Country Club is just under one and half hour's drive from the skyscrapers of Bangkok and is located in the beautiful open countryside of Ayutthaya province. Green fees will set Thailand golfers back less than $30 USD a round. What a great value and fun place to golf in Bangkok!
This post has already been read 14 times!