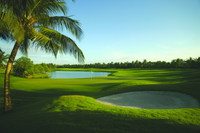 Have you ever dreamed of standing on the tee box where the professionals play to see what it is like? Well here is a photo from the Thai Country Club (TCC), Bangkok's finest golf course. It is here where Tiger Woods in 1997 drove the green at the 380 yard, 10th hole. The only problem was that Tiger not only missed the eagle putt, but also the birdie and had to settle for a 3 putt par 4.
He walked off the green so angry that he actually cursed at a few of the spectators. Locals who were at the event remember this as only one of the many temper tantrums he threw that weekend thus adding to Tiger's unfavorable reputation among the Thai people.
In any case, TCC is a must play for anyone visiting Bangkok for golf, in spite of the higher than normal green fees. Like the saying goes you have to try everything in life at least once. If you or any of your colleagues are planning a trip to Thailand and would like any help setting up a round at TCC, please drop an email to Golfasian.
This post has already been read 10 times!