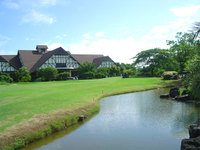 Will it be a 1995 Chardonnay, an aged 1986 Cabernet, or a robust 2004 Shiraz? No, no, no, this is not a post about fine wine, but rather a gem of a golf course located 28 KM south of Bangkok called The Vintage Club. While not a household name among the major Bangkok golf courses, nevertheless this golf club boasts a fine course indeed. It hosts the Thailand amateur tournaments each year and the design and maintenance conditions are clear reasons why.
I played at the Vintage club for my second time last weekend and was ever impressed as well as continue to wonder why the course does not get more play. The 191 yard Par 3 eighth hole is as good as any Par 3 in the country being an pseudo-island green that is guarded by high lipped bunkers front left and back right and water on all other sides. It takes a real golf shot here as on many of the other holes to avoid danger, no less make par.
The other unique point about this course is in spite of its location near by to the Gulf of Thailand, it has excellent drainage which allows the course to be a bit drier than most other Thailand golf courses. This enables good fairway bounces, as opposed to the usual plugged balls, The dyer than normal conditions allows facilitate super fast greens, similar to those found only at championship courses like Alpine or Thai Country Clubs.
Finally, the massive club house has modern and clean facilities, a great international restaurant and the design reminds me of an Vermont ski lodge more often found in Vermont rather than Thailand.
If anyone has any additional comments, good or bad, about The Vintage Club, please feel free to post here. I will be sure to make a point to get back to the course soon, as well as recommend it to be included in some of our packages and to those who are have played at other great Bangkok courses and are looking to add a new course to their repertoires.
This post has already been read 8 times!