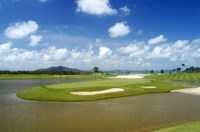 Here is the final portion of this article which deals with a returning expats first golf impressions in Phuket. The other courses, except Blue Canyon, are covered and a good suggestion for after golf dinner on the eastern side of Phuket is also included.
Mission Hills Country Club (shown at left) is a great alternative to Blue Canyon. The hotel, clubhouse and other facilities at Mission Hills are superb, even better than Blue Canyon. The course is stunniung as it is laid out right on the Andaman Sea. The greens are good and the fairways are improving from last year.
Contrast Blue Canyon and Mission Hills (shown at left), Loch Palm Golf Club, Phuket Country Club, Laguna Golf Club and Thai Muang Beach Resort, it is also possible to have other great rounds of golf in Phuket. Loch Palm in particular have put their money into developing a second 18 holes, the first 9 now being open for play. I drove around the course last week and the views from many of the holes are absolutely chin-dropping – and the condition and lay-out are just fine. Give it a try, and don't forget to take your camera with you. Your Phuket golfing memories will last a lifetime!
The evening after playing Mission Hills, we were on the Eastern, unfashionable side of the island. Driving on the 4027 road down from the airport towards Phuket Town (conveniently en route from Blue Canyon and Mission Hills back towards the centre of Phuket), just past the Heroines Monument, we turned off at the sign to Laem Hin pier. You can park there, but ignore the slightly touristy seafood restaurant in front of the pier. Instead walk on to the pier and quickly you will be approached to take a long-tailed boat to one of three floating seafood restaurants out in the water in between Laem Hin and Maphrao Island.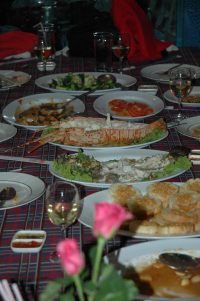 Our Thai friends had recommended Bang Mud Restaurant as the best, Mud being Thai for Muslim. That meant that it was no meat, seafood only, fresh, straight out of the water. But don't worry, beer, wines, and spirits are readily available – this is Thailand after all! After viewing the many varieties of seafood swimming in the baskets hanging in the water off the sides of the restaurant, and trying our hands at casting the fishing rods lying all around, we sat at the low tables with the lights dancing on the water and selected our food: a whole white fish steamed at the table in soy sauce with ginger and spring onions, southern-style sour yellow fish curry, Thai-style squid salad, sliced abalone, lobster thermidor (actually Phuket crayfish) and crab fried rice. With several big bottles of Heineken and Chang beer and a glass of wine the bill for four of us came to a very reasonable 1,800 Thai baht (US$48), including the boat trip there and back.
If you would like more information on Phuket and any of it's attractions, please feel free to leave a comment here or send me an email at my Thailand golf travel company.
This post has already been read 6 times!