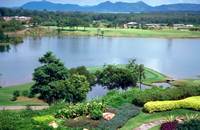 Here is the second of three parts of this post covering the possible reasons for the price hikes at Blue Canyon Country Club and an excellent suggestion that would benefit everyone.
The reasons for the green fee increases depend on whom you talk to. One view is that the new owners of Blue Canyon, Deutsche Bank, want to make it the most exclusive course in Asia, on a par with courses which host the majors and PGA tour events. This is fine, in my view, the BCCC courses are challenging and well-maintained, and are as good as many top championship courses around the world. There are some excellent holes and a number great challenges, especially on the Canyon Course where the Pros have been very complimentary about playing there.
One other comment that I heard was that BCCC members were fed up with not being able to get tee-off times at week-ends. Surely, if that were the case, it would be more sensible to do as other courses do and allocate blocks of members-only tee-off times. Since members of BCCC mainly stay and play at the club at week-ends, a high week-end walk-in fee, with a more reasonable week-day fee (again, as happens at many golf courses outside of Phuket) would be a more sensible solution. I think I will propose this to the club management and I expect this to be the inevitable best compromise plan.
Tomorrow I will post the final part of this article which gives some good playing alternatives and positive suggestions for playing golf in Phuket.
In the meantime, if you need to reach me you can contact me at my Thailand golf vacation and holiday travel company.
This post has already been read 8 times!