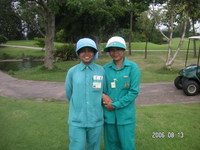 In yesterday's post I wrote about what to expect from your caddie. In return, she will appreciate being treated with politeness and respect. It is normal to offer your caddies refreshment when you stop at a drinks kiosk.
Find out from your Thailand golf travel agent about the 'going rate' to tip your caddie and, if she has performed well, double it – remember, her tip may be all she is earning that day.
Most especially, the spirit of sanuk sanuk, which translates as "fun and games", is a basic feature of the culture of the Thai people, and your caddie will enjoy your company more if you are smiling and joking. On the other hand…
She will shrink from the foul language and abuse which sometimes echoes round the golf course, as golfers fail to execute their shots to the standard they would like. Now I know that the gentle readers of the www.thailandgolfzone.com are unlikely to be culprits, but please do consider the sensitivities of the caddies (and, sometimes, your playing partners!) when you feel like giving vent to your frustration. Apart from anything else, it is probably not going to improve your golf, and it may turn a few fun hours into a miserable time for all.
Many golfers hire two caddies – one to perform the normal caddie duties, and the other to carry an umbrella for shade, a seat to sit on, and cold drinks and towels. Some golfers even hire three caddies!
An old friend of mine, always had the same two caddies over many years. Later, as he found himself not so supple, he also hired the young daughter of one his regular caddies, to put the tee peg in the ground for him! With the caddies in their colorful overalls and sun-bonnets, your foursome turns into a colorful parade crossing the fairways. Thus, another example of "This is Thailand, only could something like this actually happen, and everyone be happy about it!
I hope this re-write of Thailand golf caddies was informative yet light-hearted. If you have any interesting caddie experiences of your own, please feel free to leave a comment of contact me at my golf travel company which offers many a great golf holiday in Thailand.
This post has already been read 11 times!