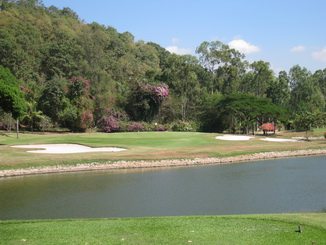 Did you know that Tourist Thailand (TAT) owns their own golf course? One would think this would be an excellent maneuver as TAT sights golf as one of the seven key areas for Thai tourism promotion and development. Ironically though, Bangpra International Golf Course just outside of Pattaya is hardly promoted to Thai golf holidaymakers, but rather is mostly used for the officials of TAT for their own golf needs.
Set amongst jungle covered hills, the Bangpra International Golf Club may only be located 30 minutes from the hustle and bustle of Pattaya, but sure leaves the golfer really feeling at one with nature. Although originally opened in 1958, this course had its first nine completely redesigned in 1987. This explains why the more interesting holes at Bangpra are to found on the front nine, which is laid out in a very natural domain at the foot of small tree-clad hills.
The par-3 2nd across water and long par-4 3rd are attractive highlights on the outward nine, where excellent bunkering and dangerous water hazards combine to good effect. The relatively tight and well-bunkered short par-4 6th makes a gentle move up the wooded hillside, only for the monstrously long par-5 7th (622 yards from the tips) to bring you gently back down the slope.


The flatter Bangpra International back-nine doesn't quite live up to the expectations created by the excellent front nine. The inward holes are not however without their challenges, even if several good-width fairways bordered by light semi-rough appear generously wide on occasions. The par-3 12th and long par-3 17th both require tee-to-green shots over water, while the testing 12th, 13th and 15th holes, also require approach shots over water to reach the safety of the uniformly circular, slightly elevated and often dome-shaped greens. The par-4 18th is a reminder that not all the fairways look "comfortably wide" from the tee, it also allows you to reflect on what a pleasantly enjoyable and varied parkland course this is.
If you are looking to get in on Tourism Thailand's secret, then give Bangpra International a try on your next Pattaya golf tour. The course is indeed open to the public and with US$25 green fees it is one of Pattaya golf's better values.
This post has already been read 26 times!