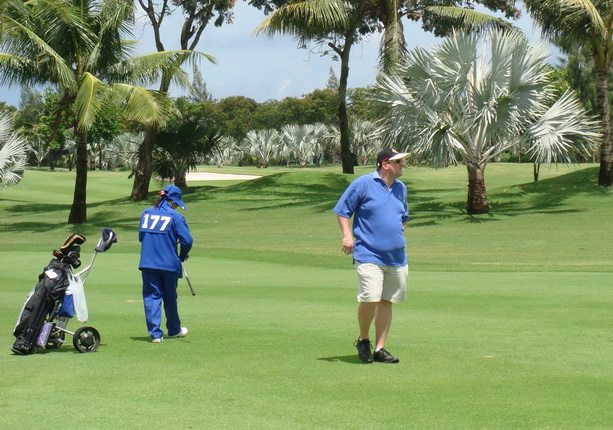 Most of you know that my home course is Thai Country Club. Having played this excellent Bangkok golf course more-or-less one time per week for the past 3 years, my scores have ranged from a few over par to over 90. Looking back on my rounds I can see a few things in common that led to good scores.
1.    Stay out of the rough. Hitting fairways in regulation is the single biggest key to scoring well at Thai Country Club. The rough at Thai Country Club is formed by thick Zoysia grass that is next to impossible to hit from. The best solution when in the rough is to hit sideways back onto the fairway. Trying to advance the ball often leads to the same shot all over again.
2.    Play for less break when putting.  Most of the greens at Thai Country Club are flattish. If you think the ball will break two cups; then putt for a one cup break. If it looks like a one grip break; play half of a grip. The only exceptions are on holes 15, 16, and 17 which do have a lot of movement due to the greens gradually sinking into the adjacent ponds.
3.    Use one extra club into the greens. Somehow the yardages on course are correct. However, the font of most greens is slightly elevated and it is hard to get any run once the balls land on the fringe. Better is to play for a full carry to the green by using one club more than you would normally select.
By following these 3 tips you will be able to hit your handicap or below at Thai Country Club. If not, then just enjoy your round, the outstanding 5-star service, and award winning clubhouse. After all it is all about the total golfing experience when golfing at Thai Country Club.
This post has already been read 15 times!