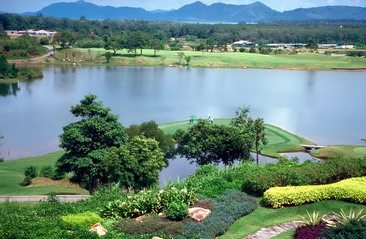 Things are changing at many on the Phuket golf courses and improvements are taking place all over the island. Loch Palm Golf Club is leading the way and the new club house is all set to be open and in place for the coming high season. The style is similar to neighbor and sister course Red Mountain Golf Club with a magnificent new locker room on the first floor that has fantastic views over the putting green and Crystal Lake. The open air restaurant on the ground floor is in the same location but refurbished in a new style. With the improvements already in place on the course, Loch Palm leads the standards for other courses to follow.
Phuket Country Club is set to follow Loch Palm with a new clubhouse and they hope to have this in place by the start of the 2012 season. The new design will have a new location for players to check in at the Pro-Shop and the clubhouse will stretch down the 18th fairway with great views of players finishing their rounds. The oldest Phuket golf course is in need really in need of this improvement and the new clubhouse will bring the club up to the standard that golfers expect for their Thailand golf holiday.
Laguna Golf Club (home of the 2009 Thailand Open) was also hoping for a major change this year with plans for the redesign of a number of holes and the re-seeding of grass on many holes. Unfortunately this has not happened much to the frustration of the golf management. Moreover, building and investment in the new Angsana Hotel (in place of the old Sheraton) at the Laguna Phuket complex has meant that work on the Laguna Phuket Golf Club has been put back until May 2012 at the earliest.


Of the other courses, Mission Hills Phuket Golf Club have re-seeded its fairways in an effort to improve its image but as yet, no real improvement has been noticed. The newest course on the island, Phunaka Golf Club continues to improve mainly on the practice facilities side and its 56 bay driving range and short game area is the best on Phuket. For anyone wanting to learn to play golf, this is the place with golf schools for beginners and video tuition for the most established players.
So although golf in Phuket is more expensive than golf in Thailand in general, the Phuket golf courses are working hard and investing money to enhance their image and Phuket golfers expereinces. The future of golf in Phuket is looking good.
This post has already been read 11 times!