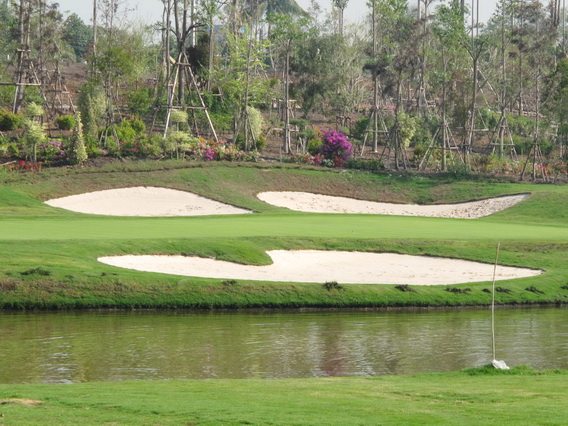 Bangkok is an enchanting city with rich golf, culture and attractions. It is known as an international golf destination for its diversity of 60 golf courses, year-round golfing weather, delicious food, numerous attractions, and most of all friendly people. Bangkok was voted "World's Best City" by Travel +Leisure magazine in 2010. The championship golf courses and vibrant streets of Bangkok never stop to amaze vising golfers.
Courses such as Thai Country Club, where Tiger Woods cruised to a 10 shot victory in the 1997 Asian Honda Classic and Alpine Golf Club where again Tiger Woods won at the 2000 Johnnie Walker Classic exemplify some of Bangkok's best golf. Nowadays, there is Royal Gems Golf City where golfers can experience August National by day and Bangkok by night.
Not only are the famous golf courses available for visitor play, but also some of the lesser known golf courses are truly gems in their own right. Thana City is Thailand's only Greg Norman design and is located only 20 minutes from downtown Bangkok. Muang Kaew is similarly located and is one of the best maintained Bangkok golf courses.
Bangkok offers a truly unique golfing experience in its own chaos that defines the city where anything is possible. A place where golfers from the east meets golfers from west, where flat courses configured from rice paddies meet hilly layout designed by the world's greatest golf architects, where high-rise buildings meets enticing temples and where street markets meets high-end retail shops. There is a Bangkok golf holiday for everyone.
This post has already been read 19 times!