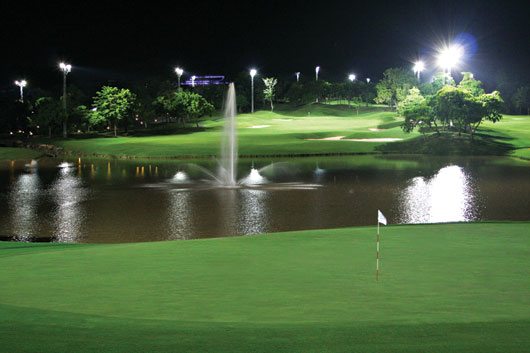 June marks the end for night golf in Thailand as courses such Panya Indra in Bangkok, Laem Chabang in Pattaya, and Summit Green Valley in Chiang Mai shut off their lights in exchange for low priced summer golf days.
The night Thai golf season typically runs from November to May, where you can tee-off anywhere from 3-7 PM and finish by midnight! That's right golf in Thailand until midnight is not only possible, it is fun and affordable.  Green fees run around $30-40 US Dollars.
My favorite time to play night golf is during the hot months of March & April where I get out around 3PM, get nine holes in the daylight and the back nine under the lights.
However, I don't take night golf to seriously though; it's more about having a fun time with my friends and the caddies.
Last month while playing with my friend Brian, we were on the 4th hole at Laem Chabang when a single was sent out to join us. I had played with him before, a nice Japanese guy who goes by the nickname Popcorn (don't ask me why, but he did look good in pink). He shows up with had caddies in a cart, a beer-filled cooler, and of course his clubs. I got quite a chuckle out of him as he was having a grand time getting himself and his 2 caddies drunk. Needless to say, his score was well over 100 by the time he finished the round.
Most of the night golfers are Thai who come out with friends after work for some golf and good fun. Many ladies (Thai and other Asian nationalities) are also on the course as they prefer to play at night and avoid any worries about dark skin or sun tans.  Due to the popularity with locals Thai golf at night can sometimes be slow. But never mind, locals just pull out a deck of cards while waiting and play a few hands with their caddies cheering on.
Night golf may not be for everyone, but it can be a lot of fun.  Wait until the end of the year when it starts again, give it a try, and judge for yourself!
One tip: when turning up at the course don't be too shy. There will be a separate contingent of caddies who like to work night golf and they will all be waiting for a golfer when you arrive. These caddies have a reputation as being some of the best looking Thai caddies. Walk up to the one who seems a good match and ask her to caddy for you. Better yet, ask her friend too and you may just have the most enjoyable round of your Thailand golf trip!
This post has already been read 14 times!