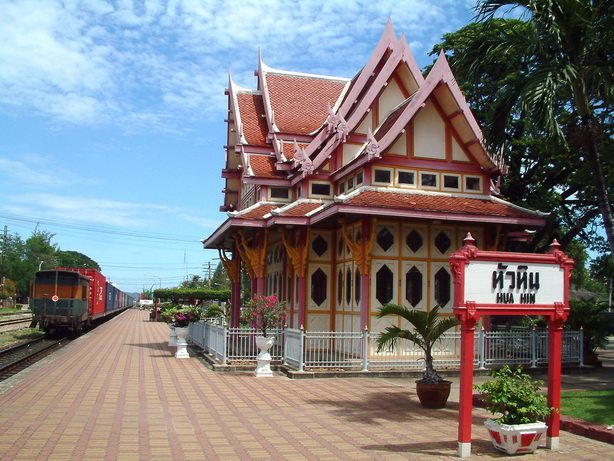 Just about all golfers in Hua Hin want to play the two area 5 star courses; Black Mountain and Banyan Golf Club. Next on the list and a notch below for most golfers are Springfield Royal and Palm Hills.
Then there are the 'Other' courses. Some golfers skip them altogether, and if you are one who demands pristine country club conditions, luxurious clubhouses with lots of niceties and amenities and only modern designs, perhaps you should too.  For the rest of us though these courses all have something to offer and can make for an enjoyable round of golf.
Royal Hua Hin
Thailand's first course, dating back to the 1920s when it was constructed next to the Hua Hin train station by a Scottish railroad engineer working on the 'Orient Express' route. The rough is rough, the fairways are patchy, and the bunkers are true hazards. However, the Royal Hua Hin Golf Club is a wonderful old style design and the greens and collar areas are usually kept in good condition. The large mature trees lining the fairways make this course at a minimum a great days 'walk in the park'. The monkeys roaming the course and the surrounding temples further add to the experience and the Hua Hin golf course is so close to central Hua Hin you can walk to the course.
Imperial Lake View
You can expect a warm welcome and easy smile from all the staff at the 36-hole Imperial Lake View Golf Club. The course design is good (particularly the A-B courses) and the greens are well maintained, though fairway conditions were inconsistent on a recent visit. The rolling property is quite large and the course has a park land layout that provides a feeling of isolation with nature on several holes. 


Majestic Creek
A good test and enjoyable track for players of all levels, Majestic Creek suffers largely due to its location around 1 hour southwest of Hua Hin. The golf course is spread out over a large and rolling property.  With many interesting holes requiring a variety of shots, the better player who has a wide variety of shots will definitely be at an advantage on this track. The clubhouse is aging and has long been in need of remodeling, though the course itself is well worth the drive.
The above courses are easily played from a Hua Hin base.There are a couple of other lesser known courses located roughly 1.5 hours from Hua Hin that fit nicely if you want to golf in excellent settings well away from most Thailand golf tourists.
Royal Ratchaburi and Kaeng Krachan
Royal Ratchaburi and Kaeng Krachan are 'hidden gems' with modest greens fees and well worth playing.  Don't expect a lot from the clubhouses and your caddies may not speak much English (most play is from locals Thais), but adventuresome golfers will be well rewarded at these venues for straying a bit off the beaten path.
This post has already been read 11 times!