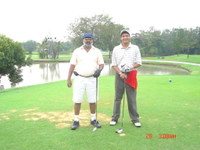 Here is Shankar and Matthew's story about their second day golfing in Bangkok, at the venerable Pinehurst Golf Club. By the way I wonder what will happened to this club once the airport moves as the only real attraction is the proximity to Don Muang.
Part II – Pinehurst Golf and Country Club, Klong 1, Pathumthanee, Thailand. Monday 28th August 2006.
Bright and early on a fine Monday morning, around the time when most normal people perform their ablutions prior to setting out for work, some with happiness, some with purpose and some certainly with a not-so-attractive fit of Monday morning blues, Mr Mathew (my friend) and I set out, with the light hearted gait of a pair of errant schoolboys playing truant from the classroom, to play Golf, I ask you, in Thailand! Woof – I just loved the thought of me in my golfing kit and going off to enjoy a whole day of fun when others elsewhere, ploughed through the doldrums of their daily existence! Ha!
We were picked up from our hotel by a Private Car (some serious cosseting, this) and got transported in comfort for about 45 minutes in a Northerly direction out of Bangkok City, past the Airport and so on, to a Jewel of a place called Pinehurst Golf and Country Club in a place called Pathumthanee.
Designed by the renowned Japanese Golf Course Designer Yoshibara Aihara, Pinehurst is typical of the genteel passion of the Japanese people for manicured floral extravagance, colourful and splendiferous yet symmetrical gardens, manicured shrubs, tended flowerbeds, shaped trees doubling as distance markers, beautiful bridged waterways and floating lotuses and lilies. The course spans three separate courses actually, North, South and West – each of 9 holes, the North being a Par 35 and the others, Par 36. A true Golfer's Paradise, with birds chirping in the trees, warm, lush tropical weather (sometimes a bit muggy, it is true, but brilliant nonetheless) and superlatively maintained fairways, roughs, bunkers and greens. A beautiful setting indeed, for an extremely challenging and tight golf course – a dream course for the accurate hitter.
Our friendly, ever smiling Chauffeur, Mr Win, deposited us at the Main entrance and said he'd await our pleasure in the spacious car park. (It is damned good fun to pretend to be rich, even if one isn't actually and personally, I can never have too much of the good life, I can tell you!)
iWe went straight to the Starter, presented our confirmation slip, met our friendly lady caddies and straightaway attacked the First (White) Tee of the North course, a Par 5, 351 yard mini dogleg right to the green. We were only a Twosome (being Monday as I said earlier) and since we play regularly together, just went out, attacked the ball with gusto and simply and uncomplicatedly enjoyed our golf!
The second is a short Par 3, Eight Iron hole which (since I had only a half set) I attacked with a Number 7, overshooting a little for a double. The third has water on all sides with a sharp-ish dogleg left on a Par 4. Nice one to attack with one's driver being careful to hit the fairway since the possibility of rollover and kick into water is high. The fourth was just made for my trusty Cleveland over a pretty bridged waterway, flying onto the mid fairway to attack the green guarded on one side by a reasonable bunker.
The fifth, a 463-yard Par 5 is completely and deceptively wicked, causing you to pull out the "big dog" so to say, and thunk it straight down the middle! The fairway ends just short of the green to fall away into some brilliant water with an island green so do not hit a wild second shot with any old wood, but be humble!
The Par 4 sixth is very straightforward and relatively easy. Moving to the 7th, a very well designed Par 3 over water to the green, we were trapped for a bit in the bunkers guarding the green itself.
The eighth hole is a long 581-yard Par 5 with miles of fairway bounded by trees, with a sudden sharp dogleg left with a very long approach wood to the green. Disaster for both of us though, since we duffed it so badly we were forced to scratch, to save face! The ninth hole is a simple and straightforward hole to play, a par 4 350 yard, peaceable one!
It was a good feeling to play this course, in a reasonably face saving manner, bar one or two duffs.
Do you want to know what happened on the back nine? Well everything will come in good time, check out tomorrow's post and see their results!
This post has already been read 9 times!