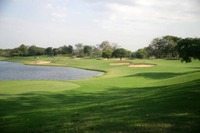 Here is the continuation of Shankar's story, and another Thailandgolfzone worldwide scoop!
Shankar and Mathew have just finished the front nine at President Country Club…………
We stopped then at the golf hut to re-vitalize our systems with some chilled water and a plantain fruit for some extra energy, (sorely needed to tackle the particularly dangerous, water hazard laden, East course.)
We were met squarely by a 290-yard par 4, bounded by water, with a wicked dogleg left to strike the green. We were under pressure at first but somehow managed a double bogey. Then we played the straightforward 11th and moved on to the 12th, where we were faced with an amazingly sharp right dogleg bounded with deep water on the right. The 13th is another super sharp right dogleg to the green and bounded with water! The Par 3, 14th is simply wonderful. An island promontory serving as a Tee box, straight over water to a pocket hanky sized green with a steep fringe – truly a hole for the Lion hearts amongst us! Interestingly the Par 5,16th hole is very similar to the Par 4, 13th the main difference is the length. Then we reached the Par 3, 17th where we were amazed to see almost an exact replica of the Par 3,14th, but here, instead of a steep fringe, we had to carry over some treacherous looking bunkers apart from hoping one would hit the ball so as to have enough "wings" over the deep water as well as the bunkers! We had a respectable bogey though on this one! The 18th is a pretty straightforward hole with a wide fairway. An interesting thing is that it is bounded on the left by water and between the fairway and the water, lies a long trench filled with sand, just to cause that extra bit of worry and ensure that one keeps well away on the right!
We played off the White tees and covered a distance of about 6000 odd yards over 18 holes. An elegant setting, a gentle looking golf course but with rather sharp teeth in that it abounded with hazards, plenty of water, millions of bunkers all over the place. Definitely a course not recommended for the faint, meek or unfit amongst us. But I'm glad I played it because it is important to be able to look challenges like this squarely in the eye and making them wilt (if possible)!
Thanking our partners Mr Khun and Mr Ton profusely and appreciating their decisive, sometimes daring and wholly skilful games, we meandered back to our hotel, bathed in that gentle sort of euphoria that can only come after a day of golf like the one we had enjoyed!
Read all about Sankar and Mathew's Sunday game on Monday and Tuesday. Remember you read it here at the Thailandgolfzone first! Please tell your friends about this site and feel free to sign up for my Thailand Golf Newsletter and Information Service.
Have a great weekend!
This post has already been read 11 times!