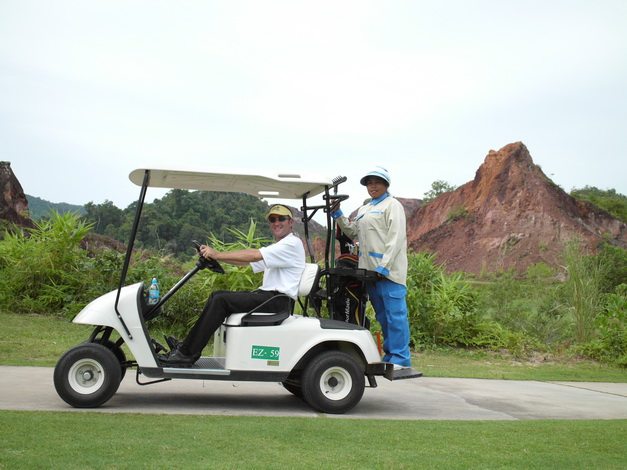 We all like to boast that we have found a real gem of a course to play!
Well if you decide to add a Phuket golf vacation to this year's agenda, then I suggest you check out Red Mountain Golf Club. You will not be disappointed.
Launched without too much fanfare in late 2008, Red Mountain has become the new kid on the block. Once the core of Phuket's tin mining industry, this course nestles in the lush Kathu Valley and is a 20 minute drive from Patong Beach.
Red Mountain is owned by the same company that owns the nearby Loch Palm Golf Club and Riverdale Golf Club in Bangkok. The course designer Jon Morrow has been given a free hand to design a world class golf course that tests all golfers' course management skills and shot shaping capabilities. Every hole has its own great theme, and there are mouth watering obstacles around each corner.
The 1st hole lets you tee off downhill through red rocks either side of the green. This hole gently gets you into the mood of what is ahead. The 2nd is a real test , a par-5 with an uphill drive over water,  then a long iron second shot dog leg right to get into view of the green.  Hole 8 is a par-4 off an elevated tee, with a lake to avoid on the right. Great if you can make it to the landing area, otherwise very wet.


So far so good, however it is the last three holes that are the most spectacular. Hole 16 is the highest hole on the course, and they even have a viewing terrace to see across golf in Phuket. The 17th is the Red Mountain signature hole. The par-3 has been literally been created out of an old mine shaft. So you are teeing off 60 meters over the green, almost like shooting down at a little dart board below. The hole is reached with a wedge or a 9 iron! Take your camera for this one, pure show biz!!!
The final hole is a fabulous par-5, 559 yards downhill towards a lake, with the club house terrace in the distance. The longest hole on the course is a great finishing hole to what is a great round of challenging and fun golf with your mates!
Everything about Red Mountain has been dealt with a touch of style. However, now 4 years after opening the course is in only OK condition with signs of wear out and turf mutation. So get there as soon as you can before the fun ends.
Oh yes, one more thing, Red mountain is the most expensive golf course in Thailand. At over $200US a round with compulsory golf cart it is definitely not on the low budget Thailand golf tour. Nevertheless, I suggest everyone golfing in Phuket give Red Mountain a try, even if only for the sightseeing and views.
This post has already been read 11 times!