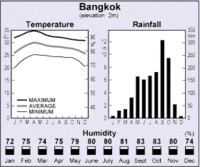 Golf travelers to Thailand should be very concerned about the weather as it can have a dramatic affect on the success of your trip.
September and October are the wettest months of the year (see insert at left) and this year in no exception. Yearly flooding throughout the country continues, with the north east and central areas the most affected. In addition, low lying areas in and around Bangkok have standing water and are best avoided until the rains subside later this month.
The northern cities of Chiang Mai and Chiang Rai see daily showers, however the heavier rains seen last month have subsided and everything is normal.
Coastal town and resort islands of Pattaya/Hua Hin and Phuket/Samui, respectively all are experiencing scattered showers, mainly in the late afternoon and evenings.
What does all that mean for Thailand golfing? Well the short answer is practically nothing. Read on…
All the golf courses are open as usual and except for playing preferred lies where there is mud on some fairways, golf goes on normally. Also, remember this is the tropics, so when it is raining, the temperatures are warm. Sometimes a shower will actually be a relief and cool things down a bit, from otherwise very hot temperatures.
As I have always said, golf is a year round sport here, and in over 15 years of playing golf in Thailand I have personally only been rained out only once. Yeah, sure there are some minor delays and inconveniences. However, a 15 minute break with cool drink at a rest stop or a free lift and freshly cleaned ball in the fairway can easily deal with the wet weather days.
In addition, and a bit early, I have seen the sun peeking out in the lest days and when this happens you can get a glimpse of the lower humidity and temperatures that are only a few days ahead, when the best golf season starts in earnest.
If anyone has any questions about specific course conditions, please do let me know by posting a comment here or sending me an email at my Thailand golf vacation company.
This post has already been read 23 times!