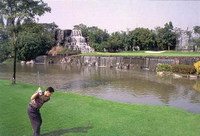 Bangkok Golf Club brings back many fond memories as I was a member there in the early '90's. It is probably the course I have most played during all of my time in Thailand. Having hosted several major tournaments, plus its 9th hole being ranked as one of the top 500 holes in all golf, it disappoints me greatly to report on what is going on today.
Bangkok Golf Club has gone down hill over the last few years in a number of important ways. The greens are all showing signs of fungus and over play, both of which are evident in bare spots, especially on the back nine. This problem seems to coincide with the opening of the course for night golf 2 years ago or may just simply be a result of poor maintenance.
There is an ongoing clearing of many of the large trees that separate one hole from another. This forest slashing negatively affects both the challenge and beauty of Bangkok Golf and really bugs me to see the natural environment killed off.
One upon a time the course was home to a beautiful aviary of tropical birds. While this was unique among Thai golf courses, nowadays the birds are left free to roam the course and the aviary area is untidy and smelly. I find this last item very disturbing as it takes away from the fresh air that should be so prevalent in the suburbs.
Finally, as with last season, the Bangkok Golf management company continues to target large Korean golf groups for long term stay and play packages at the on-site resort. This, may be good for their business, but it pushes average playing times over 5 ½ hours, plus you have to deal with golfers that have the absolute worst golf etiquette anywhere. It's a golfer's nightmare playing behind or among a group of slow playing and rude Koreans!
Well I hope this does not bash Bangkok Golf Club too much, but certainly there are much better quality choices in the area. Let's leave Bangkok Golf for the Koreans this season and reconsider things next year.
If you have any experiences playing this course or would like suggestions on alternate golf venues please either leave a comment here or drop me an email at my Thailand golf holiday travel company.
This post has already been read 10 times!