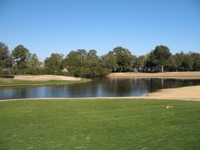 Here is a great photo from The Tradition Club in Myrtle Beach, SC. It was taken earlier this year and sent to me a few weeks ago by a good friend Mr. Ted Walton from Canada. Ted and I have been trading emails regularly and he plans to visit Thailand later this year. The shot reminds me of some of the Thai golf courses with loads of water and heavily guarded greens. I think Ted may comment more on this picture and I also hope he gives out his contact. For anyone wishing to get some great custom golf clubs, Ted is the man to speak to as he has a very successful and reputable golf club making business.
Happy golfing and have a great day on the links!
This post has already been read 10 times!