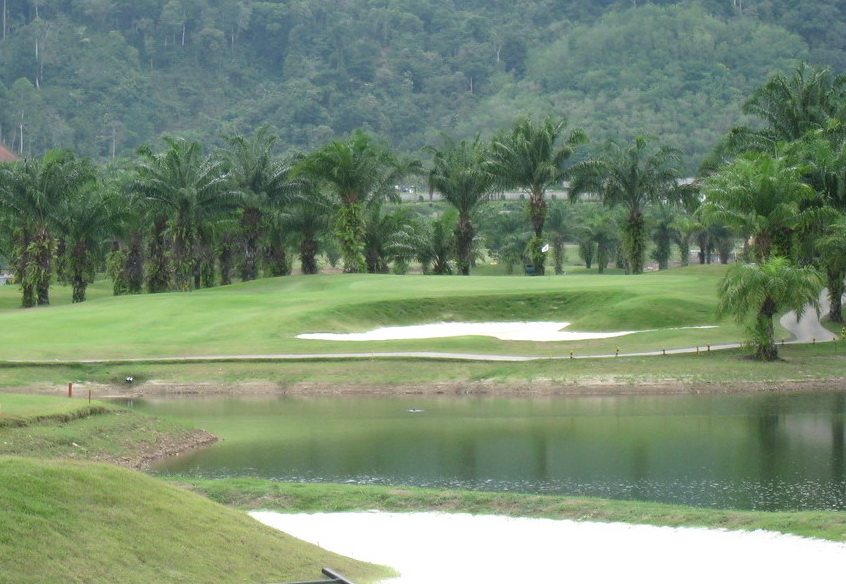 With almost 300 courses and over 600,000 registered golfers in Thailand, it is no surprise that there are a number of Thai golf course designers. Unlike most foreign designers, I have found it very difficult to find much personal information about the local course designers.
The most prolific and perhaps best known is Dr. Sukitti Klangvishai, the designer of Phuket Country Club (1989) and Loch Palm Golf Club (1993) in Phuket, Tanya Tanee Country Club (1993) in Bangkok, Majestic Creek Country Club, Hua Hin (1993), Seoul Siam Resort & Country Club, Nakhon Ratchasima (1993, formerly Pakchong Highland Country Club), and Rachakram Golf Club in the Bangsai area of Ayutthaya province, which opened in December 2006.
Dr. Sukitti was originally a dentist, and maybe still is, and I have no idea how he got into golf course design. The main characteristics of courses designed by Dr. Sukitti include the abundant use of water hazards (maybe overuse in the case of the Phuket Country Club 'New' course), making the most of the local terrain to produce tight, narrow holes, and links-like undulating fairways.


Personally I find Loch Palm and Majestic Creek the best of Dr. Sukitti's designs mainly because of the terrain he had to work with in the first place was just about perfect for the making of a golf course. Loch Palm is practically always in excellent playing condition and is the most underrated of the Phuket golf courses. The front nine which plays around the huge lake contrasts very well with the back nine in the jungle foothills and cliffs so that no two holes on the Phuket golf course are alike.
On the other hand, Majestic Creek while of excellent design and located in the hills above Hua Hin has steadily declined in quality over the years and now is practically unplayable. Slow greens, untidy rough and bunker areas, and rock hard fairways many of which have little grass on them frustrate players who golf at Majestic Creek these days. What a shame indeed as the course used to be one of my personal favourites.
If anyone knows the whereabouts or more of Dr. Sukitti's biography, please drop me a line as I am trying to get in contact with Thailand's most accomplished golf course designer. Maybe Khun Ob knows!
This post has already been read 10 times!