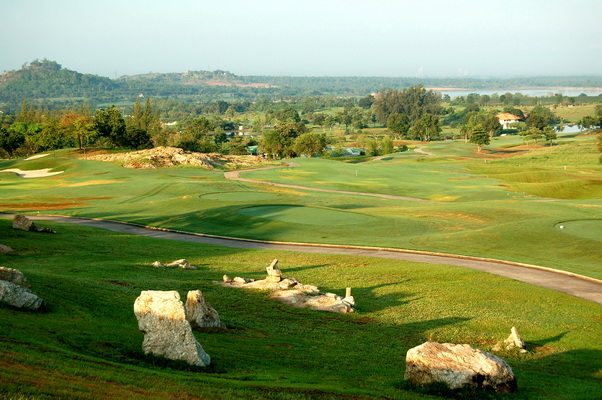 Playing golf in Thailand is not just a sport, but can be a lot of entertainment too. There are none of those stuffy club secretaries wanting to see your accredited handicap card here. No, just turn up, give your clubs to the smiling door man and you are off.
I was invited to play at Burapha Golf Club with some tourists enjoying their golf vacation in Pattaya. When I arrived at Burapha I was surprised to see so few people on the Pattaya golf course. Of course every day in Thailand is a holiday, and so there are not too many Thai golfers during the slow golf season from April to October.
Shorts seemed to be the relaxed dress code of the day, both for men and women. Most of the golfers at Burapha were expatriates of golfers from overseas!  I was joined up with 2 other golfers on their first Pattaya golf holiday.
Burapha has 36 holes and you can play a combination of nine holes. Better players cover course B and D which was the venue used for the Thailand Open. We played course C and finished on course D.
I have to be honest that there are lot more 'Wow' factor golf courses in Thailand, however the course still offers a fair game for all levels. There are flat holes with wide fairways, and long par 4's climbing up to the mountains with incredible views across the region.


Course C starts off with a gentle par 4, 434 yards from the blue tees. Not too much water but the odd cleverly placed bunker to avoid. There are no par 3's until you get to the 5th hole.
Burapha wakes up when you start to play course D.  Again thee is very little water, but a lot interesting elevations to contend with here. Hole 8 another par 3 is at one of the highest points on the course. A very tricky hole with an elevated tee and the green is surrounded by four bunkers. Watch out for the wind here too!
The finishing 9th hole is rated 1 on the course index. The par 4 hole plays downhill with a coconut tree in the middle of the fairway to avoid. At 481 yards from the blue tees, you really need to wallop your drive to gain some yardage. My second shot with my rescue rolled near to the green and I nearly birdied the toughest hole.
Another quaint idea at Burapha, is that you can pay to golf with a caddie, as many are quite accomplished golfers. It is not my cup of tea, and it drives prices up (you pay for your own caddie, the caddie who golfers, and her caddie too), but for some it can be a fun way to golf. In fact Burapha holds an annual Thai Caddie Championship where caddies from all over Thailand fight it out for some great prizes. The golf event even covered on Thai television.
Burapha is not likely to be top on your Pattaya golf club shopping list. The dated lockers, club house, driving range are also in need of upgrading. Hey but the main thing was everyone had a good time. The caddies were great fun, and we all had are moments of glory on the fairways and the greens as well.
Surely isn't that what golf in Thailand all about?
This post has already been read 12 times!