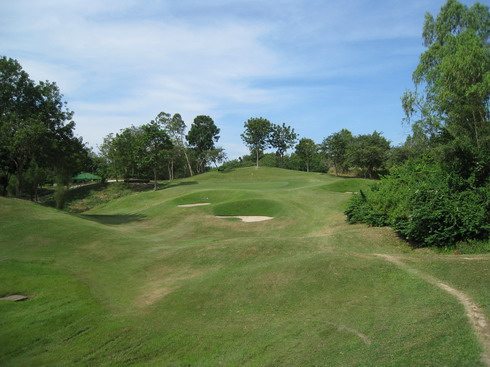 Thailand has many great courses from Alpine Golf Club in Bangkok to Phuket's Blue Canyon Country Club, both in fact where Tiger Woods won major PGA tournaments.
While these golf courses can be played by all golfers in Thailand at green fees half of what similar courses cost in Europe or the USA, they are still nevertheless expensive for some. Most times I sing the praise for all the upper-end championship courses in Thailand, however in these uncertain economic times, I thought it appropriate to share with you my pick for the best Thailand golf course at the other end of the cost spectrum; that is with green fees under $30.00 USD (25 Euros).
Emerald golf Club in Pattaya, claimed to be a Nick Faldo & Desmond Muirhead design, is a grueling, but great test of golf. 
Muirfields design contributions such as split fairways, pot bunkers guarding all 4 corners of the greens, and elevated putting surfaces are seen on practically every hole. On the other hand Emerald Golf Club is anything but a typical Faldo design and I doubt Nick had much to do with the course, despite his namesake and photo being on display in the club house.
Originally launched as Ban Chang and then Rayong Century; this Pattaya golf club has changed hands several times over the years. In fact the current owners, Bangkok Bank, have the course up for sale again for a cool 800 million baht ($23M USD).
Whatever the case, when playing the golf course this week, I found the course to be in the best condition since I first played it some 15 years ago. The Tifeagle-turfed greens were well maintained and amazingly uniform in speed and quality; as good as the best Thailand golf courses like Santiburi Country Club and Red Mountain which cost 5 times the price!. The fairways and tees showed some encroachment of weeds, but nevertheless were well defined and easy to hit from. The open-air clubhouse was not up to the standards of the very top Thailand golf courses like Thai Country Club or Blue Canyon, but the lockers were clean, showers spacious, and the watermelon shakes at the club house restaurant delicious and well-priced. Anyway, you can't expect miracles for 26 green backs and at this price the real attraction is the outstanding golf course layout, maintenance, and challenge.
Emerald Golf Club will certainly satisfy anyone in the Pattaya area, whether on a high-end package or looking to play one round of quality golf at a reasonable price. Give it a try; you will be glad you did!
This post has already been read 12 times!